Natalie Blucher tells Elisabeth Easther why she loves Greenhithe's friendly and strong community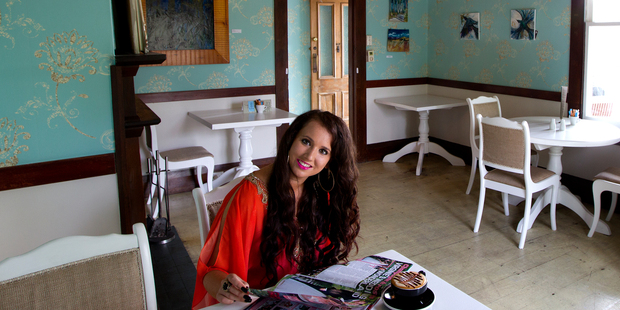 Natalie Blucher loves coffee at Palette, watching pony club activities (below) and fitness classes at the Greenhithe hall. Photo / Brett Phibbs
I've lived in Greenhithe for 10 years, originally with my family. When I got married, my husband and I went to Herne Bay for a year, but we missed the community, so we moved back.
I love how relaxed and friendly Greenhithe is. In the weekends I like to stay around home, as it's great to unwind and catch up with friends.
The walking is amazing. I love to power-walk around the streets. Everyone stops to say hello, and there are lots of different walkways, so you can mix up the routes. You can also walk over the motorway now, which is very exciting; that's the Upper Harbour Highway, that would take you to Waitakere.
If you want to, you can go all the way into Hobsonville, then on to Kumeu. It's lovely.
The Garden Tours are probably the most famous event here. They happen in November and the local people work all year on their gardens for that. My mum goes every year; you get a map and it's beautiful seeing what people have done.
There are lots of fitness options, from kick-boxing to Zumba, spin classes and even belly-dancing, at the Greenhithe Village Hall.
I love that the community constable has his own Facebook page and there's also a Greenhithe residents' page so you can see what's coming up. There's also a newsletter which goes into mailboxes. Our Lions Club is very active - they're always making things happen.
My perfect Saturday in Greenhithe would start with a walk and then the evening would be at The Malt House, which has entertainment. They show sports on the big screen, which my husband loves. They do amazing wood-fired pizzas, there's a fire in winter, and in summer you can sit out on the deck. It's really nice and relaxed.
Or for brunch in the morning, there's a lovely cafe called Palette in a renovated villa. It has great coffee and fantastic salmon eggs benedict. The Greenhithe Bakery is my favourite bakery - they do black cherry Danishes and make their own organic bread, which is perfect for entertaining. You can just hop down the road.
We also have a beauty salon, Soul Health and Beauty, a dairy, a liquor store and a pharmacist who will deliver medicines to the door, which is really handy.
We've still kept a lot of our old buildings and churches, so it's a good mix. The dairy owners have been there for years. They know everyone's names and whole family.
They also provide a notice board outside. The Girl Guides will be outside selling biscuits because they let lots of different groups fundraise outside the shop.
The annual Greenhithe Primary School fair is great, too, and all the locals get behind that.
Quite often when I go for a walk I'll see the volunteer fire brigade in training, and people will stop to see what's happening.
They also have a Facebook page and updates about events like rescuing a cat from a tree. When they train there's a sense of action and buzz in the community.
It's becoming a younger demographic now. There are lots of families with young kids, but also lots of young adults and older people.
Greenhithe has a really good balance of all stages of life.
There's a lovely pony club, on one of the main roads coming in from Greenhithe, which is fantastic. You can walk around and see the horses and ponies, and sometimes they will have competitions.
Because I'm working for the Auckland Festival, I'm commuting into town and I like to come in early. I can jump on a bus from Greenhithe and get straight to the office on Mayoral Drive in hardly any time at all, although the bus does stop at 6pm.
I don't think I'd want to live anywhere else. We think about living in the city and some central friends have tried to convince us to do that, but we love the quality of life here.
It's a very peaceful place to live, it feels safe and I love it.

Natalie's picks:
Soul Health and Beauty
6-8 Greenhithe Rd. (09) 413 9649. www.soulhealth.net.nz
The Bakery, Greenhithe
10 Greenhithe Rd, Greenhithe. (09) 413 8985.
The Malt House Pub
10 Greenhithe Rd Greenhithe, (09) 413 8651. www.malthousegreenhithe.co.nz

• Natalie is marketing manager of the Auckland Arts Festival, which runs until March 24. For details go to www.aaf.co.nz