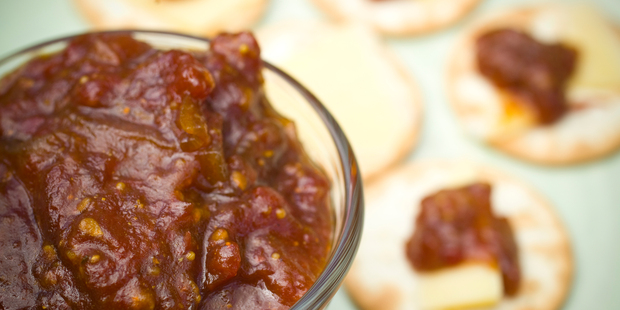 For my money the old Edmonds Cookbook tomato relish is one of the best. I've modified a few ingredients but essentially this is it.
• 1½kg of tomatoes (I used beefsteak)
• 2 medium red onions thinly sliced
1. Cut a small cross in the base of each tomato and blanch in boiling water to remove the skins.
2. Quarter the tomatoes, mix with the onions, sprinkle with 1½ teaspoons of salt. Leave overnight.
3. Drain off the salt the next day and put in a heavy-based pot.
Add
• 1½ cups of brown sugar
• 1½ cups of malt vinegar
• ½ cup of balsamic vinegar
• ¼ cup of tomato paste
• 1 Tbsp mustard seeds
•1 tsp chilli powder
4. Boil all together over a low heat for 1½-2 hours, stir often. It should now be quite thick.
Mix
• 1 Tbsp curry powder
•1 Tbsp turmeric
• 2 Tbsp plain flour
• ¼ cup white or malt vinegar
5. Stir this paste into the relish and cook for another 10 minutes.
6. Spoon into sterilised jars and seal.
Perfect with cheese and crackers