Alan Smythe is the executive producer of Auckland Summer Shakespeare's 50th Anniversary show, King Lear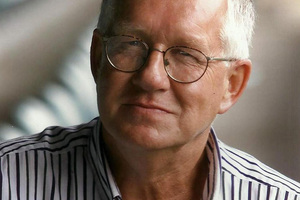 The book I love most is... An early captivation was Portnoy's Complaint by Phillip Roth. A laugh-out-loud high-powered rant, it's like being in the same room as a staccato stand-up comedian who never stops jabbering. Lots of other books, of course ... most recently, Billy Lynn's Long Half Time Walk by Ben Fountain and We Need To Talk About Kevin by Lionel Shriver. They both crank along wonderfully.
The book I'm reading right now is... The Unlikely Pilgrimage Of Harold Fry by Rachel Joyce, a tender, middle-class road story through England combining the heroic and the mundane in one rather neutral character. Joyce's great gift is to catch profound emotions in simple unaffected language. Good settings, too.
The book I'd like to read next is... Something factual like The Age of Austerity by Thomas Byrne Edsall.
The book that changed me is... It was actually the play, King Lear. I was lifted as high as I'd ever been and dropped as low.
Shakespeare opened up the glorious private thrill of literature.
The book I wish I'd never read is... Two that come to mind are The Da Vinci Code by Dan Brown and The Girl With The Dragon Tattoo by Stieg Larsson. Both suffered from a profound lack of credibility.

King Lear runs at the University of Auckland until March 30. See maidment.auckland.ac.nz for more info.