Each week Rachel Grunwell will try out a new form of exercise to bring you the lowdown.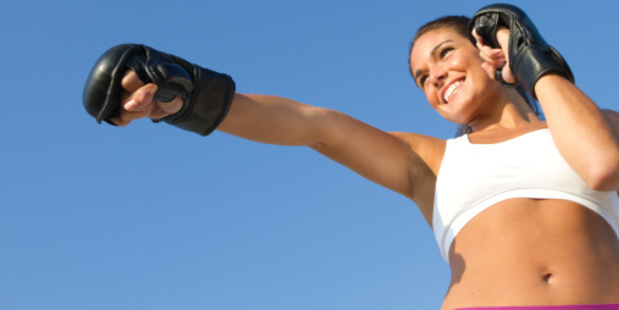 Boxfit
What is it? A boxing fitness class with body weight exercises to get you ripped.
What's needed? Workout gear, water, wraps and gloves (or borrow some from the gym).
The experience: I'm at Boxing Alley, and the class is all paired up, doing punch combination drills.
I'm punching with my hands wrapped up and in pink boxing gloves, into catch mitts worn by Monty Betham. But I'm holding back. I'm worried I may misjudge my punch combination and deliver my left hook too early and box Betham around the ears.
You see, he's supposed to duck when I do my right hook. But I've got terrible timing. I'm worried I'll mess it up and beat him.
What am I thinking? That I might unleash my inner Mike Tyson and knock the professional boxer and trainer out cold?
Betham senses I'm holding back so urges me to not care about getting it wrong and just thump my punches into his gloves with all I've got.
"Just get into it. If I cop it, then I'll soon learn!" he says.
So I think about my dad who was a lightweight national boxing champ as a 15-year-old in Britain and channel any smidgen of fight power in the blood. I get my angry face on, turn my body towards rocketing more fire power into each punch and unleash some brute force. My fists fly and so do my endorphins.
"Wow, that's it," laughs Betham. "We'll get a corporate fight out of you yet!"
When it's my turn to duck Betham's right hooks, I tell him I do mind if I "cop it" from him. Thank goodness the 92kg muscle-bound fighting machine doesn't take his chance to deck a journo. I'm sure other celebrities wouldn't let that chance slip.
The former Warriors hooker and captain and I are among a dozen guys and girls in this class. It's taken by trainer Mike Codling (dad of Daniel Codling, who won a Commonwealth Games bronze in the junior middleweight class, and former Black Ferns player Monalisa Codling).
Betham tells me he likes coming to Codling's classes because he pushes you to your limit. Betham is also a trainer at the gym (he trained celebrity Jaime Ridge last year) so he is often ringside. That's if he's not doing charity work for Steps for Life Foundation.
Another big name trainer, and the gym's co-owner, is Daniella Smith, the former IBF Welterweight World Champion, and six-time NZ champion.
The class begins with warm-ups, running left and right through cones, warm-up punches in the air and bouncing on a giant mat. Then we all "glove up" for punch combinations and drills with partners.
Near the end is a big session with everyone swapping partners, moving down a line to catch or throw punch combinations. Codling jokes it's like speed dating.
To end, Codling tells us it's abs-workout time so to lie on the concrete floor, or grab a mat "if you haven't taken your harden up pills today". Betham gets mats for the girls and Codling teases him. "You're such a gentleman."
I tell Codling it's surprising to see lots of (gorgeous) girls here. He jokes: "I think they're here for me, especially when I put on my Lycra." So there are laughs amid the sweat; lots of great sorts here.
Mike Legg, another gym co-owner, tells me the boxfit classes are popular. They get people fast, fit and strong. It's also great for stress relief and "the girls like to punch as much as the guys". I agree.
How much? $20 a class, 10-concession card $150, or 12-month membership $19.50 weekly, 6-month membership $25 weekly, 3-month membership $30 weekly.
Worth it? Great for building biceps, strength, speed, agility and cardiovascular fitness.
Try it: Boxing Alley, 21 Stanley St, Parnell, Auckland, www.boxingalley.net
Rating: 10/10