Tattooist Corey Weir believes his art form should enhance the wearer's life.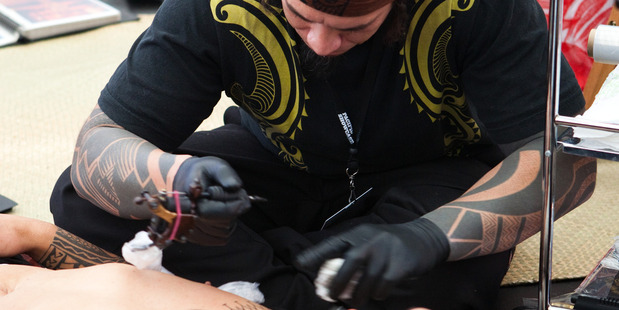 My happy place is the process of designing a tattoo. If someone's trusting me to do a piece on their body forever, I love to do it.
I call my style a Pacific style because it is heavily influenced by Polynesian and Maori motifs. I'm not into just sticking a graphic on a body. The design has to complement the shape of the person's body and where it's going to go. I'm not into doing a Popeye-like anchor. That's like a sticker. I don't do portraits, and I'm not a big realism artist.
My work doesn't look specifically Polynesian, it doesn't look specifically Maori and it doesn't look specifically Asian, but there's a real mix of all of those elements. It comes together to form a beautiful aesthetic. I think it's a good representation of New Zealand today.
I'll listen to everything the person has to say about what they want, and the ideas they want it to incorporate, and what they want it to mean or represent, and so on. And I'll picture to myself what will work and I'll begin the design process.
It's really challenging but I thoroughly enjoy it. Most of what I design is freehand, straight onto the skin with a red marker pen. Once I'm sure about the lines I'll go over it in a darker colour to get the final design, then I'll start tattooing. I definitely get into the flow of it because it's something I love to do.
It's quite exhausting because there's so much concentration, but I'm really focused on the design and how it fits on that part of the body the best. It's a very intimate process, a serious process.
I get all sorts of clients. I had a lady who tattooed herself for her 70th birthday. That was really cool.
I had a group of seven backpackers who saw a piece I'd done on a girl in Thailand, and they flew to Oz and worked in orchards for six months to save up the money to come to New Zealand and all get tattooed.
It's a huge thing for the person. Once they get a tattoo their life has changed forever.
They walk out of your studio different.
If it's done right you can definitely empower a person. You are putting something on a person's body for life and, if they love it, it can only be positive for them.
- as told to Bronwyn Sell

See Corey in action on the last day of the Pacific Showcase at The Cloud, Queens Wharf, next Saturday, March 9, 10am-5pm. Free admission. See www.pacificshowcase.co.nz.
For more about Corey, see www.monk3ys.co.nz