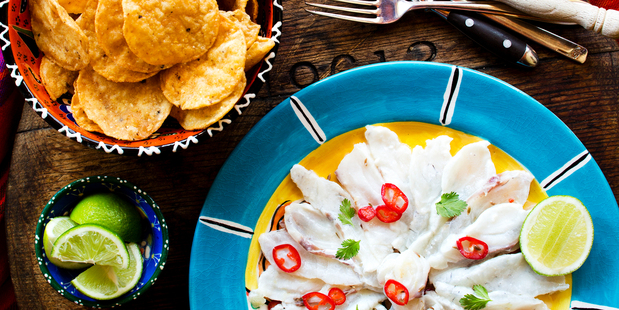 We're loving seeing the sparkling waters of our city's dual coastlines come alive with the bustle of recreational fishers at every sunny opportunity. And judging by the fresh bounty that's come my way, there are fish being landed left, right and centre. When I tire of pan-fried snapper (it does eventually happen) with a squeeze of fresh lemon or lime, I throw together this Mexican-inspired raw fish dish. Leaving out the coconut cream, more typical of Pacific versions like kokoda (Fijian), keeps it fresh and zingy, and these snacks are great for a party - crunchy, spicy, refreshing and perfect washed down with an ice-cold beer.
SNAPPER CEVICHE TOSTADAS
Makes approx. 20
• 200g fresh snapper (or other white fish, ideally freshly caught)
• 2 red chillies, finely sliced
• 1 tsp cumin seeds, toasted
• Juice from 2 limes
• A small handful of fresh coriander, finely chopped
• Flaky sea salt
• 20 small round tortilla chips
1. Chop the fish into small pieces or slices and put in a non-corrosive dish in a single layer. Add the chillies and toasted cumin seeds, and squeeze over the lime juice.
2. Refrigerate for at least 20 minutes until the fish is "cooked" in the lime juice.
3. To serve, pile a tablespoon of fish onto each tortilla chip, scatter with coriander and a decent pinch of sea salt. Eat immediately.
- VIVA