Tamati Patuwai (Ngati Whatua) tells Elisabeth Easther what he loves about living in Glen Innes, and how much the area has changed since he was a boy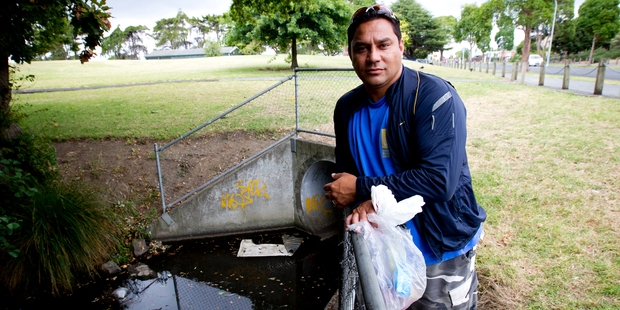 I was born and raised in Fenchurch St, Glen Innes. My whanau had come here as part of the Housing NZ culture. My mum has passed away and my dad moved back to Kaipara, so I now live in my old family home with my wife and four children.
My parents bought their house in the 80s, and now I see my son doing the same things in the same spots in the same sun as I did. It's a blessing for us, to continue in the line of our whanau.
I'm also the chairperson of the family centre here, I'm on the committee of Ruapotaka Marae, and on the working party Nga Iwi Katoa, which is a "wraparound" housing trust. And I'm a dad. Our eldest child is 16, the youngest is almost 3.
I've seen some major transformations here. Our company Mad Ave Productions, named for Madeleine Ave in GI, was begun in the 1990s. It's all about cultural and community arts development, story-telling and working with organisations to create community engagement.
The name Mad Ave speaks volumes to people who understand the east side.
We are the remnants of those who've gone before. Madeleine Avenue was an iconic part of our history and I'm a part of that urban experience.
There's a proverb that says, "Ko au te awa, Ko te awa ko au", which means "I am the river and the river is me". The Omaru River runs through the centre of GI from the Tamaki River and that proverb explains my connection to the area. When my great-grandmother moved here, back in the 50s or 60s, it was an abundant place.
The volcanic soils were great for growing, and snapper could be caught in the fishing grounds. There used to be mullet and flounder too. We grew up fishing with my dad, floundering in the shallow areas. We used to get oysters and pipi, and puha from the rivers.
The river is really polluted now - we swam in it when I was a kid, but there's no way you'd put a child in it now. There are some planting initiatives to regenerate the area, and because I'm a home boy, my role in all this it to engage the residents, to have them remember what the river is, for us all to become accountable.
We lived in and on the river, so these staged developments will become a lifestyle, igniting the people into action - businesses, council and residents.
There are still some good trails and pathways though, some good walks, from GI town centre through to Tamaki River, or along the Panmure riverside all the way through to Glendowie, all the way to St Heliers. For me, Tahuna Torea Nature Reserve is an example of what can be done. In the 70s or 80s, it was going to be a dump and then a marina, and the locals said no. They made a deal with the council and started regenerative native planting. It's a real treasure for us now.
The River Talks is about our connection with the river and came from our desire to reconnect the community to the river. We're bringing together artists and scientists, and there'll be talks, followed by discussions. We want to stimulate the imaginations of high school students, whether they want to be a scientist about it, or respond with art or music.
Much has changed here, but there are still some amazing old elements. The Marsic Brothers' fish and chip shop - they've been here a long time. The Asian grocers around here are all great, well-priced; we get our veges and fish and chips locally. Nicola Johns Pharmacy on Mayfair Place, she really cares about people. You can go in and say 'my baby's unwell' and explain the symptoms, and she'll tell you what to do. John Pearce Shoe Care on Apirana Ave, he actually fixes shoes. We've also got the best kebab shop of anywhere, Kebab 149, on Line Rd.
We have the privilege here of being involved with something that will be around for generations.

Tamati's picks
Ruapotaka Marae
106 Line Rd, Glen Innes. (09) 570 5340
Nicola Johns Pharmacy
37 Mayfair Place, Glen Innes. (09) 528 3391
Marsic Brothers
47 Mayfair Place, Glen Innes. (09) 528 9556
Kebab 149
149 Line Rd, Glen Innes. (09) 521 3030

The River Talks - an event where art meets science on the banks of the Omaru River, 122 Elstree Ave, Glen Innes. Wednesday, February 27, 12-1.30pm, Thursday, February 28, 12-1.30pm and 6-7.30pm. www.madavestudio.co.nz