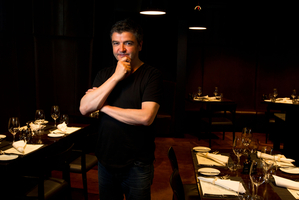 Famous foodie, Sean Connolly, is mad about Marlborough. So collaborating his culinary skills with produce and grapes from the New Zealand wine region was a "no brainer".
Connolly spent a bit of time ("I wouldn't call it work") sampling 28 different wines from four of the finest Marlborough vineyards, before coming up with a series of menus that he will present at his Auckland establishment, The Grill, from this Sunday night.
He boasts being "really good" at food and wine matching - but doesn't take it too seriously.
"I'm not too pompous about wine, I think it's about enjoying people's company. I want to keep it friendly and fun," he says.
"I'm sure there'll be some debate in there about whether it works or not." But the famous foodie doesn't seem worried.
Each night about 40 diners will be treated to an intimate Marlborough experience in the mezzanine area of Connolly's award-winning Federal Street eatery. Sunday night will be inspired by wine from Nautilus Estate, then Hunter's Wines on Monday, Seresin Estate will take the stage on Tuesday and the final evening will be inspired by Hans Herzog Estate. Each four-course feast features classic Marlborough fare - think Cloudy Bay clams, Ora King salmon, blue cod, and all sorts of wild meats.
Connolly, once named Australia's Chef of the Year, splits his time between both sides of the Tasman and will be flying in to NZ especially to cook for this event.
"I'll be there singing and dancing." That's a promise.
* To check out the full menus, for more info on the series and to purchase tickets click here. And enter below for your chance to win a double pass to Wednesday night's sitting worth $270! Entries close on Monday, February 25, at 2.30pm.
Follow Life & Style Editor Nicky Park on Twitter and Instagram.
This competition has now ended.