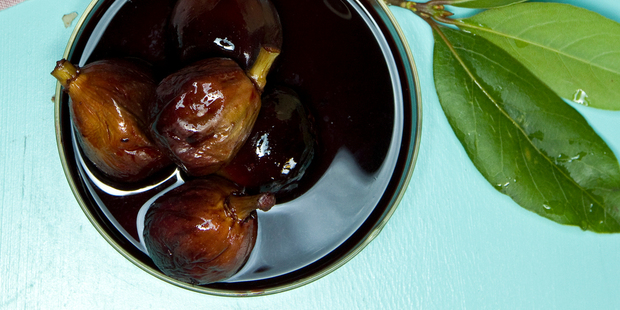 Ripe figs only need the lightest poaching. Done this way the figs are very rich - three per person will be enough.
1. For 20 small figs, warm 1 1/2 cups of red wine with half a cup of sugar.
2. Add a bay leaf and a strip of orange zest.
3. Once the sugar has dissolved sit the figs in the liquid and poach them in the simmering wine for 10 minutes.
4. Remove the figs with a slotted spoon and place them in your serving bowl.
5. Turn the heat up and reduce the poaching liquid to a syrupy consistency.
6. Remove the bay leaf and orange zest and pour over the figs.
Allow to cool before serving with a plain vanilla ice cream or creme fraiche.
You can could also add other spices, such as a cinnamon stick, a few star anise or a vanilla pod.