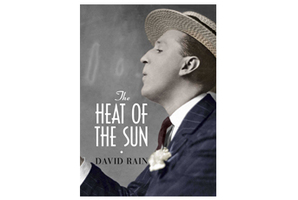 The Heat Of The Sun
by David Rain
(Atlantic $36.99)
The story of Puccini's opera, Madame Butterfly, is widely known. In brief, a young American naval lieutenant, Pinkerton, woos and marries a Japanese maiden, Cho Cho San (Butterfly). After they spend their wedding night together, he sails away, promising to return. This he does, three years later, bringing with him his new American wife; Japanese marriage laws were somewhat lax in the early part of last century.
Butterfly is understandably distraught and kills herself, leaving behind a 3-year-old son, the result of her all-too-brief marriage.
David Rain takes the opera's libretto as a starting point for his first major novel, The Heat Of The Sun.
The boy, now called Benjamin Franklin Pinkerton II, but known to all as Trouble (with good reason), washes up at Blaze Academy, a private boys' school in Vermont.
He befriends Woodley Sharpless, a lame and bookish boy, the complete opposite of Trouble's exotic and flamboyant personality.
We are not told how much Trouble knows of his true parentage, although his anguish at a performance of The Mikado does rather give the game away.
The boys survive their school years, and head into the frivolity of 1920s New York. For the fortunate and wealthy, it's a time of parties and madness, drink and drugs, champagne and chandeliers. Rain captures the era convincingly ("gentlemanly hands, banded at the wrists in cuffs crisp as paper, smoothed the naked backs of girls with shingled hair"), even including references to the young Prince of Wales, the darling of the in-crowd.
But no such period can last forever, and as the decade of gaiety gives way to the grimness of the 30s, Woodley and Trouble's friendship begins to fracture.
Woodley fails to enjoy a lacklustre career as a writer, and Trouble does what he always did - cause havoc and dismay at every turn.
His father, now a US Senator, is hard-pressed to keep his son safe, even as the thankless boy professes hatred for his parent.
The men meet in Japan during the war between that country and China, and again at the cataclysmic events at Los Alamos and the Manhattan Project.
Trouble flees to Nagasaki, his spiritual home and birthplace, where he miraculously survives the devastation wrought by the second atomic bomb.
The final meeting of the two friends resolves quite satisfactorily their differences and mysteries, and draws together the strings of two disparate lives.
Rain has previously published fantasy sequences, as well as poetry and reviews. He has a sure touch with dialogue, and his descriptive passages are evocative.
This is an ambitious book, but Rain's experience as a teacher of literature and writing at various British universities stands him in good stead. It's a rewarding read.
Phoebe Falconer is an Auckland reviewer.