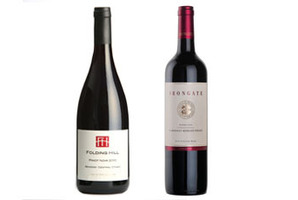 Having looked at some New Zealand whites worth seeking out, this week it's the turn of the reds.
While internationally we're best known for white wines - notably sauvignon blanc - our reds are fast gaining attention, spearheaded by some classy pinot noir and succulent syrah.
If you can find some of the multi-award-winning 2010 Barrel Selection Bannock Brae pinot noir ($60) you'll be well rewarded. Central Otago winemaker Jen Parr has a hands-off approach combined with a high level of expertise in managing oak - basically excellent quality oak in tiny amounts. The result is a spectacular, savoury, rich beauty with a supple, refined finish.
Hawkes Bay's Gimblett Gravels continues to offer up excellent Bordeaux varietals and syrah, benefiting from the heat-driven old Ngaruroro River bed, which provides superb free-draining soils and a distinctive terroir that is being carefully nurtured.
It's here that veteran winemaker Gordon Russell grows his always reliable Esk Valley Winemakers Reserve merlot-dominant wine.
It is 14 per cent malbec, 13 per cent cabernet sauvignon and 73 per cent merlot. A majestic powerful wine, chock-full of ripe berry flavours, dominated by blackcurrant with complex spice and savoury undertones - $60 well spent for the 2010 vintage.
In the neighbourhood and part of the same George Fistonich family is the suave, smooth 2010 Villa Maria Reserve merlot. It's hard to find 100 per cent merlot wines and at $50 this is hard to beat. Sheer quality from fully ripened fruit with an explosion of plush, rich, vibrant plums. A wine to savour and be dazzled by - the colour as well as the taste.
Accompanied by big red meat dishes, this is as good as it gets.
I was so bowled over by the initial release of The Messenger in 2008, I wondered if it was a fluke. Fortunately it wasn't and this is a wine I often bring out to impress overseas visitors who still think New Zealand reds should only be drunk by hobbits, goblins and gonzos.
It's a Bordeaux style with an exquisite blend of cabernet franc (44 per cent), merlot (36 per cent) and malbec (20 per cent). From a small Stillwater producer just north of Auckland, this is well worth seeking out and although it's around $85, for a quality wine that is likely to cellar well, it's a bargain. The distinctive label is as appealing as what is in the bottle, which is a most harmonious taste experience ... fleshy, fragrant, smooth and tantalisingly complex.

Recommended
2010 Folding Hill Pinot Noir - $38
From Bendigo, Central Otago, this is excellent value for money. The winemaking is so traditional that plunging is by hand and the wine is bottled unfiltered and unfined. Flavours of cherries, plums and spice ... complex and savoury, with finely grained tannins.
2010 Babich Irongate Cabernet Merlot Franc - $35
This wine is 34 per cent cabernet sauvignon and merlot with 32 per cent cabernet franc and is from Hawkes Bay's Gimblett Gravels - a family winery which has been making wine since 1916. It has classic flavours of blackcurrant and plum with spicy undertones and would be perfect with smoky barbecued meats.