Myra lloyd wears hats like they're T-shirts: every day, with a special hat for every occasion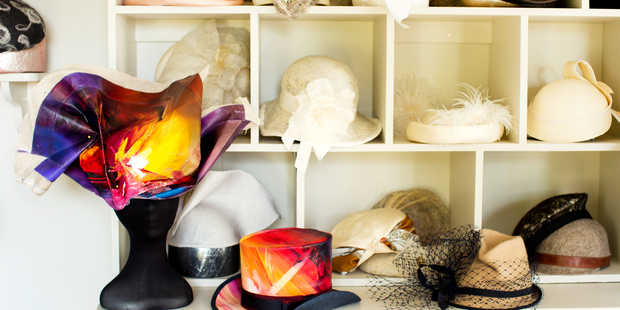 She has a preference for masculine styles - bowlers, top hats - and jokes that she would rather go without knickers than something on her head. And, like Little Women's Jo March's scribbling suit, she even has a red felt "working hat".
For Myra, hats finish a look and she talks passionately about encouraging women to have the confidence to dress up and have fun with what they wear; to make a statement - with a hat, of course.
The return of the hat has recently been championed by British Vogue, following the popularity of its appearance on the runway: veils at Dior, wide-brimmed at Saint Laurent, clear vinyl sun hats at Chanel, flat-topped Spanish hats at Ralph Lauren or the trippy beekeepers' veils at Alexander McQueen.
Born in Zimbabwe, the vivacious milliner makes hats from scratch and to order at her Helensville home, under the moniker Marmalade Hats.
Her headwear passion is evident throughout her home, with hats displayed on a bedroom wall, along a coat-rack in the hallway, and throughout her workshop - a little white office in the garden. This space brims with peacock feathers and vintage wooden hat-stretchers, and there are all sorts of delightful hats on display: wide-brimmed picture hats, colourful top hats, elegant cloches, classic bowlers and veiled trilbys.
Recently Myra has been working on sculptural hats made from colourful painted canvas (she felt awful at first about cutting it up), and made hats for Auckland street style bloggers Four Eyes. She plans to meet famous British milliner Stephen Jones while he is in New Zealand in April, after he expressed an interest in a felted flax fabric Lloyd sent him - a unique blend she developed by sandwiching flax between fine layers of wool.
• Marmalade Hats ph (09) 420 7177.
- VIVA