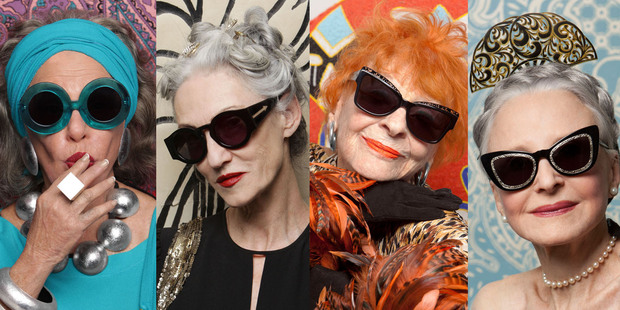 Leading New Zealand fashion designer Karen Walker is turning heads by using women aged 65 to 92 in her latest advertising campaign.
She has featured New York-based Joyce, Linda, Lynn and Ilona in the sunglasses campaign, proving "there are no rules anymore" when it comes to fashion.
'Karen Walker Forever' is a celebration of eternal optimism, said Walker.
The idea was prompted by her discovery of New York photographer Ari Seth Cohen's website, which shows older women "who have an incredible sense of fashion and style and taste", said public relations agent for Karen Walker Eyewear, Murray Bevan.
The pair realised they were fans of each other's work, he said.
Seth-Cohen photographed the well-known models in New York about six weeks ago.
"What I've always loved about Ari's images, and his ladies, is the sense of looking to the future rather than the past. There's an optimism and excitement for the moment in his women that I applaud," Walker said.
Aged 92, Ilona Royce Smithkin is the most senior of the group, but also stands out for her bright orange hair and, in one shot, for wearing a red feather boa.
Industry experts support the move, which they say is becoming the trend rather than an exception.
Auckland designer Sera Lilly said: "I think everyone can look fashionable and gorgeous. I never use typically stick-skinny models; always use models with a bit of meat on them."
Fashion blogger and commentator Katherine Lowe said: "It's a little edgy, and I think Karen Walker Eyewear is edgy so it fits with the brand."
- APNZ