Forget flowers and chocolate, instead, sew a special message for your Valentine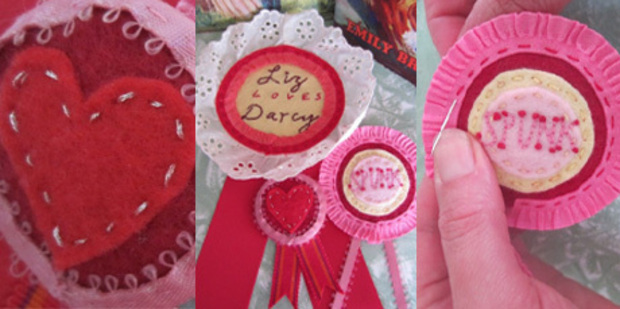 If you believe the anecdotal evidence, we're a romantic bunch here in these southern isles.
Recently I read about the I Love Lois hedge in Otago, lovingly crafted by Chris Skellett for his wife. (That would be Lois). Apparently, after a consistent campaign of nagging on her part to see the hedge tidied up a bit, Chris applied a little foresight and set about carving his words of love out of the unwanted growth to create a 3D message on the hedge.
What would you rather have: the latest in foot spas or the love hedge, a spontaneous, creative and highly individual response by one man to his wife's nagging? Which says 'I love you' more?
Valentine's Day presents an opportunity for you to follow Chris' lead and get a little hands-on (in more ways than one!).
Why not make your beloved an honest declaration of love with a Valentine's rosette? As with horses, dogs and chickens, you can now let the love of your life know that they are 'best in show', in your life at least.
All it takes is a pair of scissors, some glue, a few stitches and about half an hour of your time.
Confronted with Spotlight's impressive range of trims I had to strongly resist the urge to create boudoir-inspired rosettes. Eschewing the ruched elasticated white satin with baby pink trim, I settled on more sedate but ultimately less awe-inspiring options. You may be braver in your choices.

Step 1 - Trace around a cup onto lightweight card to create a circle of desired size. Cut it out and use as a template to cut 2 felt circles, a front piece and a back piece.
Step 2 - Decide what look you want for your front piece. You could layer different coloured felt circles to create a target, or simply leave it plain. Hearts, stars or flowers could be cut out and sewn to the felt base. If using lettering, make a template from baking paper and pin to the felt. Backstitch the lettering in place.
Step 3 - Once you're satisfied with your front piece, glue it to the cardboard backing. Measure out your trims of choice, hold in place and hand-stitch to the edge of the felt and cardboard. Play around with layering different combinations of trims to create an indulgent and, dare I say it, romantic look. Turn end of trim under and stitch in place to finish off.
Step 4 - For the tails, measure a piece of ribbon roughly twice the diameter of the rosette, fold in half and secure with a couple of stitches just below the fold to hold in a V shape. Glue or tape to the back of the cardboard base and cover with the other piece of felt using glue to secure. Attach a brooch fixture or safety pin to the back with strong glue such as Araldite.

Materials/Tools
• Cardboard
• Felt
• Embroidery thread and needle
• Paper scissors, paper and pencil
• Trims
• Safety pin or brooch fixture
• Glue