The new Chaparral 244 Sunesta might look like a traditional ski/party boat but it is more than that.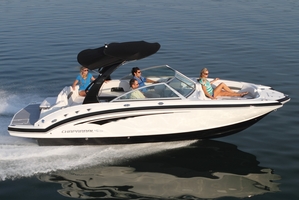 My first experience of a Chaparral was not a great one. After being told by the importer how magnificent and how much better than the local offerings these American boats were, I found something quite different.
Mercifully, the years have blurred many of the details but I can, nonetheless, still recall the dreadful workmanship - cabin door surrounds that were significantly narrower on the sides than across the top and a jamb that looked like it had been formed by a paralytic 5-year-old holding a chisel for the first time.
But the new Chaparral 244 Sunesta bears absolutely no resemblance to that earlier disaster. It has exquisite workmanship and is packed full of innovative ideas.
Sadly, boats like the 244 Sunesta do not traditionally find a lot of favour among Kiwi boaties. Our ocean-going tendencies lean heavily toward the piscatorial; if a boat isn't suitable for fishing, then its market is going to be limited.
Nevertheless, I think the 244 might have a chance. Although it looks to be just another imported bowrider aiming at the towing things and partying set, it offers far more. Granted, it doesn't look like a fishing boat and (horrors) there are no rod holders to be seen.
But as our friends in Australia have shown, it can be easily modified to do the job. As the Queensland importer, Tom Carlisle of Sirocco Marine North, explains, one simply takes the 244's huge boarding platform (which easily doubles as an impressive fishing area) and adds a transom rail with a clip-on bait board and rod holders.
The other hurdle this type of boat has to overcome is the belief that it is suitable only for calm seas and fresh water. Again, this does not apply to the Sunesta 244. Its pickle fork-style bow, patented 20-degree Wide Tech hull and wide inverted chines enable this boat to handle the rough stuff.
It is also capable of some scintillating calm water performance. Fitted with a 300hp MerCruiser 5.7-litre 350 Mag and a Bravo 3 leg, the 244 copes nimbly with even reasonably violent high speed turns.
Other engine options include a MerCruiser 377 Mag (320hp), a Volvo Penta V8 (270hp) and Volvo Penta V8 (320hp).
The Chaparral also lays to rest that old saw about American "lake boats" not being able to cope with our nasty, shallow water, harbour chops. All models in the company's range are built using hand-laid vinylester resin with kevlar in the hull laminates, to reinforce the area in case one runs aground or hits a submerged object). They also all have a lifetime hull construction warranty.
This, then, is a well-built vessel that handles and performs well and can be converted into a fishing platform.
It is also, far more importantly, a magnificently versatile party boat.
Despite being a completely open bowrider with a LOA of just 7.42m, the 244 Sunesta somehow accommodates a private head, a wet bar with sink, fresh water, trash tube and space for a small fridge or chilly bin, and a surprisingly large amount of practical, out-of-the-way stowage.
From its Wide Tech bow to that oversized aft platform, the 244's designers have made the most of every square millimetre.
For example, the bow area, with its almost half a square metre of extra useable space (created by that broad pickle fork bow), contains forward-facing bow cushions with supportive full-height back rests, an infill that converts the entire bow into a comfortable sun lounge, handy under-seat lifevest stowage and an ice box (to keep the drinks cold), a ton of leg room, four self-draining stainless steel drink holders, waterproof speakers, a telescopic foredeck bow ladder for easy access to the beach, a foredeck deck wash and fresh water shower (to wash off the sand when coming back on board) and an adequate anchor locker (although with no bollard one has to anchor off the side cleats).
The large cockpit is similarly full of innovative and practical features. The passenger console "unwraps" to reveal a reasonably-spacious fibreglass-lined head, with Porta Pottie (or optional VacuFlush with macerator). While a little tight for the larger among us, it is light, lockable and well ventilated.
Over on starboard, the Chapparal designers have made good use of the space behind the driver's console, where a large locker occupies otherwise dead space. This handy area has two doors. The outer doubles as wind protection from the open bow, the inner keeps everything inside when the outer is open.
The 244's stern is as versatile as its bow. The engine compartment is accessed through the aft seats and the transom bench seat faces fore and aft, and also folds down to create another sun lounge.
There are also several practical and easy-to-access stowage lockers, table mounting brackets fore and aft, several more of those stainless steel drink holders (there are 12 on board) and a stereo system with four normal marine speakers and two sub-woofers.
The innovation continues to the back of the giant swim platform, which safely extends beyond the lower unit even when it is in the up position.
There are more drink holders, another deck shower, recessed cleats, another telescopic ladder, a sterndrive tilt button a and even an external waterproof panel, giving full control of the stereo from the water.
The test boat was fitted with the optional heavily constructed alloy deluxe wakeboard tower, but a less expensive option is a simple fold-down stainless bimini frame.
Chaparral 244 Sunesta
LOA: 7.42m
Beam: 2.59m
Deadrise: 20°
Construction: GRP
Trailerable Weight: 3200kg
Horsepower range: 270-320hp
Engine: MerCruiser 350 Mag
Fuel capacity: 238 litres
Water capacity: 38 litres
Priced From: $118,000 (approx)
Price as Tested: $127,000 (approx).
* Want to know more? Check out the comprehensive boat test on the Chaparral 244 Sunesta in the January/February issue of Pacific Powerboat magazine or at www.pacificpowerboat.com.