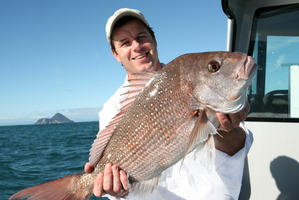 The best fishing is right in close at the moment, and those fishing from the shore or in small boats are doing well. It is certainly not necessary to travel far to catch snapper, whether in the Firth of Thames, Tamaki Strait or by Auckland Harbour Bridge (check chart for restricted areas).
Last weekend, boaties caught fish almost within touching distance of the grey ships at the naval dockyard, and in the 25m hole off Stanley Point. The 23m hole off Kauri Point and Tank Farm also yielded plenty of snapper.
There are good-size snapper also. An 18kg kingfish was caught on the reef at Crusoe Rock, and the Noises and Pakatoa reef are other top kingfish spots. The key is live bait, with small kahawai the easiest to find, although kings and snapper will snap up live piper.
There are fish in the channel inside Kawau Island but the outer Hauraki Gulf and the eastern side of Coromandel Peninsula are much harder. Like all snapper fishing, it is a matter of working the tides. For example, the tide starts flowing in Sargents Channel before it does in Motuihe Channel.
As the tide runs into a congested channel it actually flows faster out the other side.
For more current, it is better to move further into the channel. The reverse applies when less current is wanted, such as on the bigger tides of 3m and more. So the plan this weekend would be to start fishing in one of the channels, then move down with the current as it picks up to ensure a good flow.
The other variable is the bait and rig used. Commercially produced flasher rigs, with bright tassels on the hooks, work fine in some situations, and, when there is little current it is the best time to tie one on. Then, as currents pick up, changing to a trace up to 2m-long with two hooks will produce more fish.
Two young anglers were buzzing after snapper fishing off the Manukau Bar last weekend. They'd noticed a long shadow in the water. It turned out to be a marlin, which cruised around their boat and followed lures they threw at it.
That was in only 14m of water, just off the bar. It is usual for marlin to be reported in the green water in close, and they have been found to contain mullet when caught.
With strong easterly winds the weather has favoured west coast game fishers all week and it's unlikely to change until next week. Marlin are being caught down the west coast from 90-Mile Beach to New Plymouth and, with mackerel and small tuna in good numbers, there is plenty of feed.
The wind has pushed in warm water on the east coast and, with plenty of bait fish around, the boats won't have to go far to find marlin when conditions improve. Two striped marlin were caught in close at Bird Rock in the Bay of Islands, and two yellowfin tuna of over 60kg are the first yellowfin seen off Northland's coast for two years. One of them weighed 74kg - not bad for the angler's first game fish.
Freshwater
The big trout continue to come from Lake Rotoiti, where the hot weather has caused the fish to congregate at around 30m, although the depth varies during the day.
Harling on the other lakes is procuring fishing at first light, but Lake Tarawera is proving hard for many anglers.
Hatching cicadas are giving back country stream fishing a boost; so are stalking brown trout on lower Tongariro River and on Lake Otamangakau.
Bite times
Bite times today are 5.40am and 6pm, and tomorrow 6.30am and 6.55pm.
Tip of the week
Try light line, like 6kg braid, small baits (pilchard chunks) and small sinkers. The hook-up rate will more than compensate for fish lost through light tackle.
* See more fishing tonight on Rheem Outdoors with Geoff, 5.30pm, TV3.