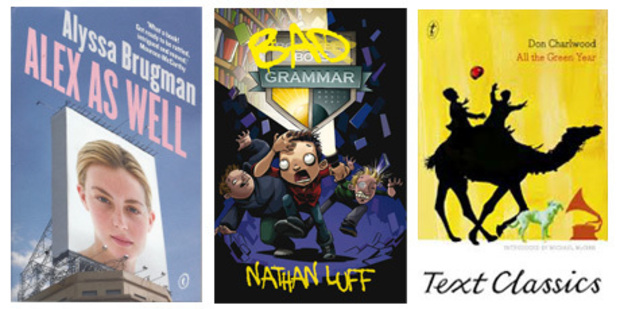 Alex As Well by Alyssa Brugman (Text Publishing $26)
In this brave, quite confronting book, Brugman tackles the difficult subject of living as an intersex person. Alex has stopped taking her medication and is morphing from a confused teenage boy into a girl, still confused but happier about herself. She quits the boys' school where she has been humiliated and enrols herself as a female student at a co-ed where her androgynous beauty wins her admiration and a modelling contract. A thought-provoking read for anyone - especially those who don't quite fit in their own skin.
Rabbit by Margaret Beames (Scholastic $19.50)
When dog-mad Jack opens his birthday present, instead of the puppy wants, he finds a rabbit. He is not impressed - until he discovers the rabbit can talk. Henry (the rabbit) comes up with a plan to help Jack resolve his problems with bullies. But it is hard to keep a talking rabbit a secret and soon Henry is stolen, and we come up against the social and moral issues of animal testing.
Aimed at the primary/intermediate reader, but young teens may enjoy the action.
Bad Grammar by Nathan Luff (Walker Books $18.99)
Marcus is a solitary 11-year-old who would much rather be playing computer games than going to school or making friends. He lives in a fantasy world, where he is a warrior, but his parents and teachers see him as an antisocial problem and thus arrange for him to attend Bourkely Boys Grammar. The boys at the school call it Bad Grammar, and he soon discovers why. An action-packed and amusing story for younger teen boys.
Liar And Spy by Rebecca Stead (Text Publishing $19.99)
Georges is forced to move from his much-loved home into an apartment. His mum, a nurse, works night shifts as his dad has lost his job. His best friend has dropped him and he is the brunt of "classic bully crap". Seeing a sign in the basement "Spy Club meeting - today", he signs up and meets his new neighbour who ropes him into investigating the mysterious Mr X. Full of twists and themes - friendship, trust, phobias, to name a few, it is a captivating book for the younger teen - both boys and girls.
All The Green Year by Don Charlwood (Text Classics $15.99)
One from Text's series of iconic Australian stories, Charlwood's boyhood recollections are certainly worth another look. Charlie and his parents move into grandfather's house, next door to the obnoxious Squid. Though plenty of old-fashioned fun follows, including hijacking a camel and playing matador with a local bull (both inevitably ending in disaster for Charlie), there is also a deeply human side to this story: his friend Johnno is a victim of bullying and parental abuse and it is from this dark vein the book produces its tragic twist.