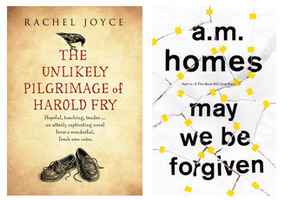 May We Be Forgiven by A.M Homes (Granta $36.99)
Few writers do dysfunction as relentlessly as Homes and, in her newest novel, pretty well every individual and institution is on the verge of implosion. We start with a Thanksgiving dinner at which not only the turkey is disembowelled. We get siblings powered by mutual loathing; children by electronic addiction; in-laws by lust or contempt.
Jump to a few months later, and a totally new direction. George, the younger brother and television writer, his designer house full of Emmys, with a TV set in every room, is involved in a fatal hit-and-run and a pyrotechnic mental collapse. Then come a liaison, a homicide with table lamp, a divorce with rancour.
Just a tenth of the way into the book you're concussed by the battering of events. So is older brother Harry, part-time professor and part-time adult, who suddenly has to become a guardian and a grown-up.
It's a quantum plot, capable of being in several places at once. You can - and you're probably meant to - see it as emblematic of social fragmentation. We get online sex and off-limits sex; a rest home romance; an informant in an elevator; revelations of Richard Nixon's secret literary career.
As usual with Homes, black-plus comedy appears everywhere it can, and, in some places, it probably shouldn't. Shall I mention the Viagra-induced brain episode and the therapy session that becomes a cage fight? Indeed I shall.
Or there's the marvellously repulsive party planner, offering "these magic pens with a photo of the bride or groom. Tilt it and their clothes fall off. Very popular". And let us not omit a terrifically tasteless trip to historic Williamstown, with medication issues, serial vomiting and theme park rides called Der Katapult and Der Wirbelwind.
Suburban sterility is excoriated. Families are nuclear only inasmuch as they suffer meltdowns. At the same time, even the ugliest (try the pre-teen kids "absent of personality, absent of presence") are never beyond hope. Existence is precarious but worth cherishing. Some people craze and crumble; others defiantly hold together. Things swoop and swerve towards a glorious, unlikely conclusion, as Harry's extended family extends further still, and he finds a fortune in unused banknotes beneath a lawn.
Homes' fanged prose jumps, twitches, states horrors with jolting flatness. A hugely clever, unexpectedly compassionate work, which comes stampeding out of its own chaos to become very nearly a major novel.

The Unlikely Pilgrimage Of Harold Fry by Rachel Joyce (Doubleday $36.99)
After 45 years of modest, mundane work, retirement for Harold Fry is a time of inertia and irritations, beside his pinch-mouthed wife in the prim little English house with its pink toilet seat cover. One day trudges after another.
Then the mail brings a letter from Queenie, whom Harold hasn't seen or heard from in two decades. She's dying. He scribbles a dull reply, and sets out to post and forget. En route to the mailbox, he changes his mind. He's going to walk the nearly 1000km to where Queenie lies - because if he keeps walking, she'll keep living.
It's a terrific premise and, even if Rachel Joyce's execution wobbles sometimes, her narrative takes you by the elbow and doesn't let go. Dressed in the clothes he was wearing when he popped out, dependent on the kindness and semi-comprehension of strangers, Harold heads for Scotland.
As he walks, he finds a world full of dogged, decent people going about their decent, dogged lives. Joyce makes this point. Then she makes it several times more. A succession of characters/caricatures crosses her protagonist's path (his B roads, rather), say their pithy or puerile bit, then wander off again. There's a burger girl who tells him
about believing; an ex-jailbird who now makes table decorations; a devotee to whom God gives a dove (or maybe a pigeon); a dog called Dog. A support group forms, not always for admirable reasons.
Harold loses weight and gains perspective. He processes his past: sad, strained parents; lost son; wife Maureen and their room-temperature marriage; "all the things in life he'd let go", including the betrayed Queenie.
He walks for 87 days. Some are times of primroses and violets. Others are full of darkness and fear. What he and we find when he reaches Berwick and Queenie is viscerally unexpected, wrenching the book in a different, darker direction.
This book was long-listed for the Man Booker. It's almost certainly headed for a movie adaptation. When you go to see it, take at least four hankies.

David Hill is a Taranaki writer.