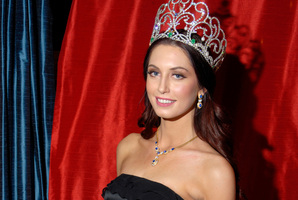 The parents of girls as young as 10 are paying $700 each to enter their daughters in a junior Miss World beauty pageant.
Collette Lochore, the reigning Miss World New Zealand, toured schools last year recruiting 25 girls for the Miss Junior New Zealand contest, which has a $1000 prize. Contestants have to fundraise the $700 entry fee.
The girls, who will be aged between 10 and 17 by the time of the April pageant, will take part in eight weeks of workshops and training beginning next month.
Lochore, who had previously said she was prepared for some flak over the age of the contestants, would not give any information ahead of the first workshop.
Former Miss New Zealand Elizabeth Aitken said children who were as young as 10 would not be able to deal with the experience.
And psychologist Sara Chatwin said the entrants needed to think of the implications. "It can bring into sharp focus the body image issues that a lot of young girls suffer from."
However, Natalie Zeigler said she did not have any concerns about her 13-year-old daughter Zena participating, because there is no swimwear section. On the final night of the competition, the competitors will perform a dance as a group, introduce themselves, show off a talent and then parade in an evening dress.
Zena was driven by an interest in modelling, Zeigler said. "She's very tall. My daughter wants to be a model and this is the perfect training ground for confidence-building."
Compared with the $450 she paid for a one-week modelling course, she said, the entry fee did not seem so bad.
Paige Cheverton, who came third in Model of the Year in South Africa, said she too felt very lucky to be a contestant.
The competition is the first for Maggie Kyd's 17-year-old daughter Danielle, who said if she was not able to raise sponsorship money for the entry, she would have to work for it.
She was equally unconcerned about the critics. "It's a fun girly thing. Girls like to do these things."
Victoria Marsden, a specialist counsellor in body image and eating disorders with Auckland Psychology, had earlier said 10 or 11 was "very, very young" for girls to be involved. "By that age body image tends to already be an issue with young girls," she warned. "This is a very risky idea."