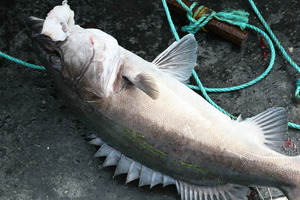 A visit to the Chatham Islands is high on the bucket list for many New Zealanders. For when it comes to fishing, hunting, diving, snorkelling, tramping, enjoying the outdoors and simply kicking back, it is like going back in time 50 years. You can still pick up paua by walking around the rocks at low tide. You can still catch groper in 15m of water just as if you were snapper fishing. And on the same gear.
Hapuku are deepwater fish around most of our coastline, but the same fish are called groper at the Chathams where they have not been fished out of inshore waters. In fact, they are called groper everywhere south of the lower North Island.
Regular visitors to the Chathams are besotted with the place, and some buy property there. There are regular flights from the main centres, and the 800km trip takes just over two hours. Air Chathams' powerful jet-prop aircraft are designed to carry both cargo and passengers.
Two of the 11 islands are inhabited by around 600 people, and the economy revolves around farming and fishing. Farming is a tough business, for stock and supplies must be shipped in and out, adding to costs.
But high-value produce such as paua and crayfish can be flown to New Zealand, as the islanders like to call the mainland.
Tourism is growing, and the rich history, wildlife and fauna make the islands of Rekohu-Wharekauri unique. The original inhabitants, the Moriori, were Polynesian settlers who arrived nearly 1000 years ago. When Maori arrived they merged to become Chatham Islanders. The first Europeans reached the islands in 1791 on the English ship HMS Chatham, hence the name.
Once you get to know the locals the hospitality is legendary. But they guard their resources carefully, imposing their own limit on how many fish, crayfish and paua visitors can take home. When the plane is being loaded, the white polystyrene chilly bins of seafood outnumber all other baggage. A Ministry of Fisheries officer is also on hand to check their contents. Paua and fish fillets must be labelled, recording who caught them and when, for you have to collect your own and account for the crayfish. Did you dive for them yourself, or did you get them from somebody's holding pot?
When we visited with a bunch of mates we had to admit to the latter, as our host, Stephen Page, simply pulled up one of his pots and put a dozen huge crays into a bin. These will be accounted for as part of his catch and, although he has a fair bit of quota to fill, it is still very generous. Page runs a couple of commercial boats and sends about 50 tonnes of crayfish to New Zealand every year.
When it comes to catching fish he also delights in showing up the Aucklanders who arrive with the usual shiny rods, reels and tackle to take on the groper and legendary blue cod. These grow to massive proportions and produce the most succulent, delicious white fillets.
"This is how you catch groper!" said Page as, hand over hand, he hauled in the thick green cord he uses as fishing line. He had baited his two long-shanked hooks with chunks of fresh cod. The hooks are attached to short traces of 100kg monofilament clipped to loops in the rope.
At the business end chunks of steel rod act as sinkers. When he feels a bite he yanks on the rope and hauls it in quickly, then hefts the gleaming groper over the side.
It is all done efficiently and brutally fast.
The depth sounder showed 12m as the boat drifted over some marks showing on the bottom. The half dozen Aucklanders enjoying their first visit to the Chathams were awed to find groper in such shallow water and to catch them on snapper rods.
Time on the islands has a different meaning. Page doesn't wear a watch, and although the fishing expedition was scheduled for an early start to beat the wind, it was 1.30pm before the boat left the wharf. But nothing worries these guys. They know exactly what they are doing and, as he said, "We only need a couple of hours to get fish and have a dive."
Time is so different here that the clocks run 45 minutes ahead of the rest of the country. So, in one respect, they are well ahead of us.