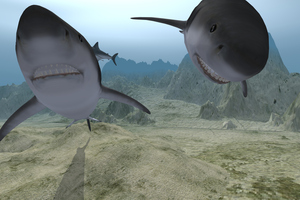 Sharks are providing a lot of action around harbours at the moment. They are large female bronze whalers, which venture into shallow water to give birth and to feed on snapper and flounder. It happens every year after Christmas in harbours from Tauranga to the Far North but, in Auckland, the large sharks are being seen off beaches like Bucklands Beach.
The sharks traditionally have been hooked at spots like Musick Point, Duders Point, and up Waitemata Harbour. Others take up residence at the entrance to the harbour at Matiatia on Waiheke Island, waiting for fishermen to toss catch scraps overboard.
Bronze whalers are regarded as official game fish. When caught in our waters they are released unless a potential world record is to be weighed. They are called man-eaters in some parts of the world, but have not been known to attack people in this country.
Snapper fishing has improved in the past week, particularly in shallow water and from the shore.
Fish are being caught from the rocks at Musick Point, from city breakwaters, and boat fishermen are doing well in shallow water in the evenings on a high tide.
Inside the Waitemata has been fishing better than further out, particularly on the city side and off Kauri Point, but boat traffic and congestion can be a problem.
The channels are still patchy, but fish numbers have improved. The key to fishing places like the Rangitoto Channel is to keep moving until you find the fish. Even then it can slow down after catching a few, and another move is needed.
Kingfish are being hooked in good numbers at the Ahaa'a Rocks, and there are snapper around Kawau Island. Fishing remains hard out wide in Hauraki Gulf, at Great Barrier Island and around Coromandel Peninsula, but the Firth of Thames is holding plenty of fish.
Game fishing is better off Tutukaka than the Bay of Islands, where water temperatures are low. The west coast has been fishing better, with marlin taken in 120m off Piha. But it is still early days for game fishing, and next month should see it improve.
A couple of marlin have been caught out of Tauranga, and the skipjack tuna are about 12km offshore. In Tauranga Harbour experienced anglers are doing well, particularly on the last of the outgoing tide at change of light with a snapper of 6.5kg snapper reported this week.
Freshwater
The summer fishing pattern on Rotorua lakes is running later than last year, and fly fishing at the stream mouths on Lake Rotorua is picking up. The Waiteti Stream mouth is the best performer, with brown trout over 4.5kg taken late at night. The number of anglers wading and casting from anchored dinghies is always a good indication of which spots are best.
Jigging and deep trolling on the deep lakes has improved, but is not producing the large numbers of last year. This is because the lakes have not stratified into separate layers, condensing the fish into a narrow band of water where temperatures change - called the thermocline - which means the trout are harder to target at specific depths.
But some very nice trout have been taken recently, several over 4.5kg and two of 5.6kg from Lake Rotoiti and one of 5kg from Lake Tarawera.
Bite times
Bite times today are 12.10am and 12.35pm, and tomorrow 12.55am and 1.20pm.
Tip of the week
Try using recurve, or mutsu, hooks for all snapper fishing. Like longline hooks these are designed for the fish to hook themselves and while always used on ledger or flasher rigs, they also work well on the end of a trace.
More fishing action can be found tonight on Rheem Outdoors with Geoff, 5.30pm TV3.