Manicured yet natural, Katikati Bird Gardens are an avian haven, writes Dionne Christian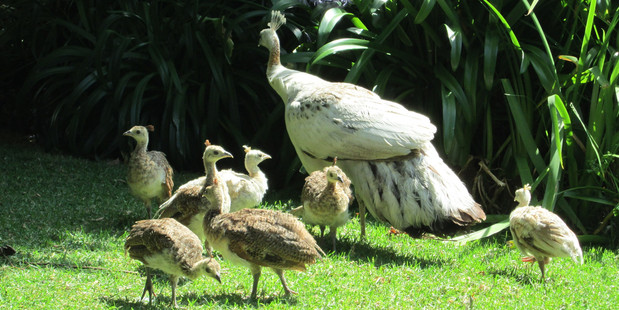 If we're going to Katikati, how come we're going to see birds and not cats?"
When you deal daily - no, make that several times each waking hour - with questions like this from a 3-year-old, sometimes you need to take a peaceful walk in a beautiful garden.
When I was a child and asking my parents questions like that, one of the things I wanted to know was why, when we were en route to or from Tauranga, couldn't we stop and visit the Katikati Bird Gardens?
Not enough time, you and your sister will only want to take the birds home (probably true) and the weather's not right were offered as excuses.
So despite the fact that the gardens on the outskirts of the Bay of Plenty town were created in 1976, I didn't get my wish to see them until this year. We stopped in on our way back from Tauranga last summer, but returned again for a day trip more recently.
Why? Because they're beautiful, but not manicured to the point of being unnatural, and I'm thinking about an aviary for our property so wanted to have a gander at the way in which the birds complement the gardens.
Of course, these gardens are a lot bigger than our third of an acre. They occupy a 4ha site running down to Tauranga Harbour's inner edge. With fresh water springs, ponds and a wetland, the gardens make good use of natural and man-made aquatic features.
After a pleasant drive from Auckland, including the trip through the striking Karangahake Gorge, we arrived at the Katikati Bird Gardens bang on midday.
Before any walking could take place, lunch was ordered from the terrace cafe which overlooks the gardens. The menu isn't huge, but that's not a bad thing; too much choice can be confusing. The dishes are fresh and tasty - paninis, sandwiches (fresh and toasted), gourmet pies, salads and a hearty beef lasagne with a generously portioned side salad, plus a selection of cakes and muffins and cold and hot drinks.
The ducks, peacocks and chickens that wander freely around the adjacent lawn are obviously well-trained. They know not to approach diners and cadge food.
There's a well-appointed playground watched by a group of vocal silver-crested cockatoos in enclosures opposite. Once fed and watered, I left one child with dad to play on the playground and lounge around reading books on the lawn and headed off with Miss Three.
Okay, so it wasn't to be such a relaxing and contemplative walk, but a joyous one as she expounded on why there were no cats and described, in her own inimitable fashion, what we were seeing: "We're leaving the valley of the ducks now and heading down across soft grass which feels like a kitten's fur ...
"We're heading through a shady glade where there might be foxes ..."
Certainly, there are exotic birds here as well as native ones - about 50 different species in all - but definitely no foxes.
The gardens were first developed by Chris Parker (they are now owned by Scott Robertson) and many of Parker's original plantings remain. Like any smart gardener, he ensured there would be year-round colour: camellias in winter, azaleas, lilies and flowering cherry trees in spring, roses in summer and magnificent multi-coloured tree leaves in autumn.
Formal gardens, such as the stunning rose garden, nestle happily next to more informal plantings. The variety of exotic and native plant species, plus the close proximity to the shorefront, ensures an equally wide range of wild avian visitors at different times of the year.
Royal spoonbills are often seen, as are white-faced heron. Miss Three and I saw two of the latter (as well as pukeko and black swans) as we enjoyed the wetland walk.
There are a number of benches along the wetland walk, so you can sit in peaceful contemplation. This section of garden culminates in a flat lawn area where there's a tree hut with views across the harbour, plus a glimpse of a moa.
That, of course, is a model - but a very evocative one which, I imagine, provides a fairly realistic picture of what one grazing in the wild may have looked like. And the tree hut would make a wonderful writer's retreat ...
From the wetlands, we made our way to the aviaries which are home to a variety of bantams, parrots, parakeets, pheasants - the red golden are quite spectacular - doves and native species such as kereru (wood pigeons).
At all times we were never too far from free-ranging ducks, pheasants and chickens who, I think, expected food. You can buy feed from the cafe/gift shop (we forgot, which was a great disappointment to our feathered friends).
It takes about 45-60 minutes to complete a circuit of the gardens and aviaries; possibly less if you have a preschooler who insists on breaking into a sprint at various points along the way. Most of these paths are sealed and wheel and pushchair-friendly, and there are two golf carts for hire should you require motorised transport. A cottage is also available on site for holiday rental.
By the time we returned home, Miss Three was singing about how it was great to be alive. A day in such beautiful surroundings will leave you singing a familiar song - even if there are no cats or kittens.

Katikati Bird Gardens
• 263 Walker Rd East, Katikati.
• Open daily 10am-4.30pm September to May (winter hours June to September, weekends and school holidays only).
• Groups by appointment all year round. Adults $9.50, children $5, family pass $25.
• Ph (07) 549 0912 or visit birdgardens.co.nz.