Brownyn Sell asks Aucklanders to share what they love about their lifestyles in the City of Sails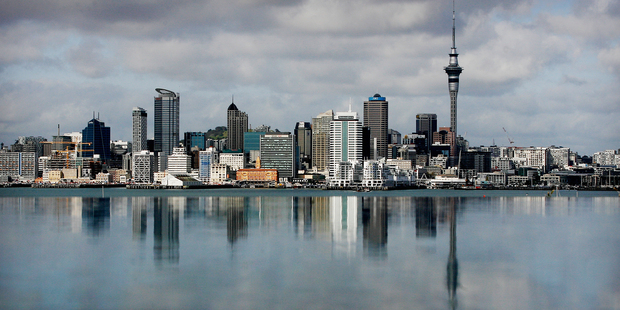 The snubbing Auckland gets from the rest of New Zealand is nothing new. On Auckland Anniversary Day in 1863, a local newspaper wrote:
"Auckland has often been twitted by jealous neighbours with pretensions beyond her merit, but... as a province blessed with numerous harbours on its coasts and islands dotting the Gulf of Hauraki, Auckland is singularly fortunate."
Exactly 150 years later, we're again shrugging off all references to JAFAs and Dorkland to celebrate all that's sparkling and vibrant about our city. To mark Anniversary Weekend, we asked a collection of Aucklanders to share what they love most about their home.

Hinewehi Mohi, singer/songwriter and TV producer
I initially came to Auckland for my television production work, but I've grown to really love the community.
It's a really cosmopolitan city that's embraced me in terms of all the things that I do - musically, and with work, and with setting up the Raukatauri Music Therapy Centre in Grey Lynn.
Our daughter, Hineraukatauri, has cerebral palsy and when we were in London we were lucky to go to music therapy there. She responded to it immediately. Music is wonderful because it transcends boundaries. It's a way of connecting people and bringing out emotions.
When we came home we wanted to find a music therapist who could work with her, but there weren't a lot of therapists in Auckland. So with the help of a lot of friends, my husband George and I established the centre nearly nine years ago. We started off with one therapist and a handful of children, including our daughter. We now have more than 200 children, and some adults.
The centre needed to be embraced by the broader Auckland community, and it has been. It's a real jewel in the crown for me in terms of what Auckland represents, because it's all about the support and kindness of people.
Charlotte Bellis, Prime TV newsreader
I love Auckland's opportunities. I moved up from Christchurch a year ago, after the earthquake, with hopes about what I could do with my career.
Everything's fallen into line, because of the job opportunities and networks and the amazing people. So many doors have opened.
I'd worked for TVNZ as a reporter, and within a few months of moving to Auckland I was offered a presenting job at Prime. That evolved into doing some presenting for Sky News Australia, and that evolved into presenting 60 Minutes.
I've also taken up cycling, which has got me out and about around Auckland and outside my usual ring of friends, and now I'm doing an ironman in March.
You can very easily move outside your comfort zone in Auckland, which is really satisfying.
Simon Harding, chief executive of New Zealand Mint
My favourite thing about Auckland is Onetangi Beach on Waiheke Island. It's my refuge.
We have a holiday home there, and I can be gathering tuatua on the beach within an hour of leaving work.
My wife and three children spend all of January out there and I commute in to work. If I'm really lucky I can commute in my Sealegs amphibious boat, and catch dinner on the way home. If it gets too rough for the boat then the ferry also has its advantages - you can have a glass of wine on your way home. It's a lot more attractive to get home on a boat with a glass of wine than it is to sit on the Southern Motorway.
I'm much more chilled out when I'm there. Work definitely takes a lower priority to gathering tuatua and trying to catch the odd snapper.
It's close to the centre of a vibrant city but it's a completely different planet. It's got a laid-back atmosphere that allows you to completely switch off.
Nadia Lim, chef
My favourite thing about Auckland is the beaches. I went to school at Avondale College, and one of my favourite memories is of going out to Piha Beach. Piha is still a favourite, as well as Anawhata. My husband Carlo and I also love Pakiri and Muriwai. And then you've got Bethells, which is wild and rugged.
I live in Gulf Harbour, so I'm a bit further from the west coast now, but I still try to make it out to Piha.
I have a lot of friends who live out in west Auckland, in Titirangi, so I pick them up on the way. It's quite a long drive now - up to about an hour and 45 minutes - but that's not too much driving time for what you get.
We also like walking around Te Haruhi Bay in the Shakespear Regional Park, which is near us. It's really nice, and so different from the West Coast beaches. You don't have the waves, and the black sand, and the heat that radiates off it.
We're very lucky to have incredible fishing around Gulf Harbour - and even some hunting.
People out of Auckland think it's this big city with not much opportunity for outdoor activity. When Carlos moved here he thought the worst thing would be missing out on being out in the wild.
But just up the road on a friend's land we can shoot rabbits, which is more food for the table. It's bizarre to think that you can do that in suburban Auckland.
Eddie von Dadelszen, Working Style creative director
I am fortunate to travel abroad regularly for work. Every time I return to Auckland I am reminded how truly fantastic some of our dining establishments are.
For a city that has some of the best produce globally at its fingertips it shouldn't be surprising that our food is so good, but it is the combination of the proprietors, venues and service that makes Auckland dining world class.
My local hero is Cafe Hanoi. I usually visit once a week. The staff and food are consistently exceptional and I love the ambience of the dining room.
Another favourite is Ella. Great service coupled with perfectly cooked food, presented in a tasteful, relaxed and low-key environment.
At the Grove, the combination of Ben Bayly's profound skill in the kitchen and Michael and Annette Dearth's passion for wine and food - and Michael's questionable sense of humour - always make for a memorable evening.
Tony Stewart's dramatic dining room and unbeatable customer service at Clooney creates a perfect stage for an exquisite, intimate dinner or a bit of a riot with good friends.
Other highlights for me are MooChowChow, the Oyster Inn and the long summer lunch at Poderi Crisci, on Waiheke.
Geoff Scott, owner and chef of Vinnie's
I love the volcanoes in Auckland. I'm fortunate to live in Balmoral, fairly close to Mangawhau, or Mt Eden.
When you're down on ground level it's all about the stress, the parking, the traffic. It's all go-go-go, especially if you're a busy parent. But when you're up at that level there's a moment you realise what a great city you live in. It's that moment you say, "Wow, we're pretty lucky."
Auckland is a pretty cool place. I've worked and lived in London, Paris and Milan, and you don't get that natural beauty.
People forget we have such special gems right on our doorsteps. If you get on a volcano you'll realise you're in a unique city. Take the time to drive up, walk up, run up, cycle up, slide down, walk the dog - whatever your thing is.
There's such a phenomenal history surrounding each of the volcanoes. It makes them very rich and sacred. There's also that slightly unnerving reminder that we're actually living in a geologically dangerous area of the world.
Mike Ballantyne, president of tech company Online Republic
I've lived in some great cities, but Auckland tops my list.
For me, it starts with the water.
I love that it is always nearby, and that I get to drive to work past a sparkling harbour adorned with yachts. I like that I can drink water out of the tap knowing it's not recycled seven times as it is (allegedly) in London.
And close to my heart, water-wise, I love that I can have a decent shower. I've lived in Melbourne and visited rellies in Brisbane, and a restricted two minute shower shared with a bucket to catch water for the garden just doesn't cut it.
I love that my Auckland is packed with great memories. I often think of riding the bowls at Skatopia, the skateboard park now buried under Rainbow's End. Or grabbing a hot chocolate and cake at Open Late Cafe before I was old enough to get into the Gluepot. Or feasting at Armadillo Restaurant on "Hoover Hog", their inch-thick, plate-sized slab of crackling ringed pork.
I also love that as a city we are making the waterfront more accessible by developing Wynyard Quarter, creating great urban spaces like Britomart Precinct, and building timeless architecture such as the impressive refurbishment of the Art Gallery.
And I love Auckland because it has been good to me. I've helped build a global business here, I met my beautiful wife here, and my amazing children were born here.