European ex-pat brings fresh French flair to a tired Hamilton state house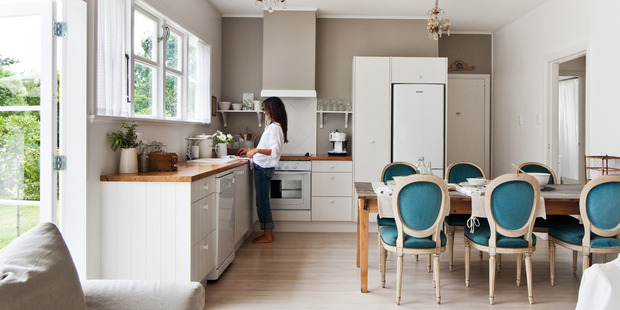 When Audrey Fitzjohn agreed to leave her native France to live in Hamilton with her husband Elliot, she had one proviso.
"My only condition for coming to live here was that I'd be able to bring all my things, which meant a 40-foot container," Fitzjohn says.
That container was crammed with ornate chandeliers, beautifully proportioned chairs and elegant side tables, which are now framed by a backdrop of whitewashed floorboards and cream, grey and white walls in the Fitzjohns' renovated former state house.
The couple moved to Hamilton three years after meeting in Paris. They chose to settle in Elliot's hometown as real estate in France was too expensiveand they thought it would be easier to start a new life in an area at least one of them knew well.
They bought the 1940s, two-bedroom house in March 2010, mainly because it was affordable but also because it was close to the city centre, had a big garden and was in a quiet street.
"It looked a little sad but we knew that it was an opportunity we shouldn't miss," says Fitzjohn. "A house this close to town with a big secluded garden for so little was just what we needed."
Little had been done to the house over the years, and its "authentic" interior included the original kitchen. The house needed opening up internally and to the outdoors to take advantage of the large garden.
"It was all closed up, dark and wallpapered," recalls Audrey.
"There was no landscaping whatsoever, only a feijoa tree in one corner. It was basically a rectangle of grass with a square house in the middle and a shed."
They started in the bedrooms, with Fitzjohn peeling off the wallpaper in the main bedroom the day after they moved in. "We were in here to work and I had to get into that mood right away," she says.
By the end of the year the walls were patched up and painted, and the kitchen was renovated. After that, the floors were sanded and whitewashed.
As a teenager, Audrey began collecting antiques and experimenting with different decor styles, something that inspired her to start a decorating blog (lamaisondouce.canalblog.com), which soon had thousands of readers.
"At the time I was also collecting antique fabrics, and sewing and creating homewares from my finds," she says. "I would hold regular 'sales' online and I ended up writing a book about sewing with antique fabrics, Esprit de Famille, which is still a bestseller in France."
Now she sells homewares and stationery in the style of her home through her online store hellopaper.co.nz
Her design skills were put to good use in the Hamilton home, where she has used a neutral palette throughout to keep the spaces as light as possible. "I've always decorated my homes with white," she says.
"I guess it's a French thing. So white it was for all the walls in the house."
Style tips
Clean look: Audrey says people with small children should not be afraid of using white in their homes. "Nowadays there are washable paints for walls, and you can throw on sofa covers in light colours that can be washed, so white isn't scary at all."
Surface tension: Texture is the key to making white work, whether it's in different finishes or in ornaments and accessories such as throws and cushions.
Natural partners: Timber finishes work well with a white backdrop or white furnishings.