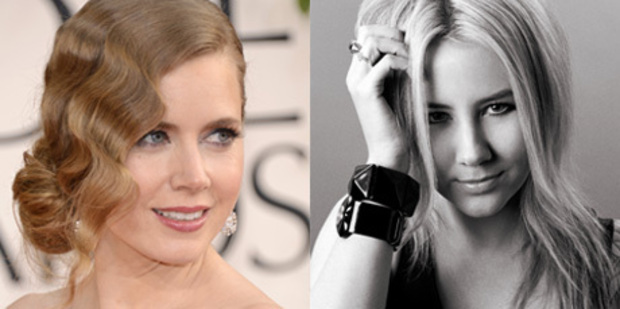 Twenties time
Amy Adams got ahead of herself at the Golden Globes with hairdo inspired by The Great Gatsby. The much-anticipated and sure to be highly stylised Baz Luhrmann movie isn't due out until mid-year, but is bound to inspire a swathe of 1920s beauty looks. Though many stars on the red carpet at an elegant Globes favoured classic updos and softer tumbling versions of Old Hollywood-style 40s curls, Adams modernised the 20s Marcel wave.
Stylist Laini Reeves for Moroccanoil said the aim was to use Art Deco references in a looser more contemporary way that complemented the actor's nude-coloured off-the-shoulder Marchesa gown. "I wanted to create a sense of freedom so the hair didn't look like a set. Hair on top was smooth, with the waved detail starting 3 inches from the root. I really liked the way it fell, and kept the entire look soft."
A small, loose, twisted bun was pinned low on the side of the nape behind the waved detail and shine added with Moroccan Glimmer Shine Spray ($39.50) to avoid the tight, matte period look.
To try a similar style at home use a volumising shampoo and conditioner, then make a side part and brush hair into place. Try air drying it with fingers, then placing a clip where you want the wave to begin before using a soft shine spray from root to end to reflect the style detail.
"Then I used a large crimping iron to form the wave, taking 2-inch vertical sections, starting at a face-flattering point alongside the corner of the eyebrow," Reeves explains. She used more shine spray, brushed through with a soft bristle brush before pulling hair to the lower right side. "After making a ponytail (held with a hair band), I twisted the hair around my fingers and rolled it into a little bun supported with gold bobby pins." The bun was then loosened for a textured modern look and a holding spray applied.
On the move
Amber D, M.A.C's senior artist in New Zealand will soon be sharing her skills with the Australians. She will team up with her Australian counterpart Nicole Thompson in working across both countries.
Both women are regulars on the international fashion circuit, with Amber D heading to New York and London next month, followed by Tokyo, meaning her official move to Sydney under the new title of Senior Artist Oceania is still a few months off.
As a leading force in fashion shows, entertainment industry work and editorial shoots in New Zealand her full-time presence will be missed, but the merged artistry team arrangement means she gets the best of both worlds, based in a bigger market but also keeping in touch with artists she has mentored here. Amber D's progression from starting work on the counter at Smith & Caughey a decade ago to being a leading hand at shows in Paris and Milan is an example of why M.A.C has one of the highest retention rates in the beauty business. Look out for tweets from Amber D once the international show season gets under way next month.
- NZH