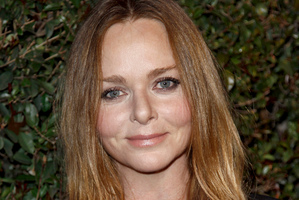 The British fashion designer, hero of busy, multi-tasking women everywhere (well, fashion fans at least), has just come out of her most successful year yet: the reveal of her Team GB Olympic uniforms in July, her Designer Brand and Designer of the Year awards at the 2012 British Fashion Awards in November, being appointed OBE in the 2013 New Year Honours for services to fashion. Plus, she was the most searched fashion label on Google.
"It feels like it's been a pretty big, long, hard-core year," says McCartney in a moment of reflection on a balmy afternoon in Miami. We are at a poolside party at a mid-century modern waterside mansion to mark the launch of her new sportswear collection for Adidas. Outside, under the glaring Miami winter sun, models have been showcasing the range while partaking in various sporty vignettes - paddle-boarding in leopard print neoprene seam-sealed wetsuits and rash shirts, playing volleyball in metallic running shorts and jackets, posing poolside in neon swimwear, doing yoga out in the garden. Just before McCartney arrived, a troupe of synchronised swimmers outfitted in Adidas by Stella McCartney swimwear took over the pool to perform, while guests enjoyed canapes - vegetarian of course - and delicious elderflower cordial and sundaes with strawberries and macarons.
It is the eve of Art Basel Miami Beach, a week of art and parties when collectors, celebrities and fashion insiders flock to see and be seen, and McCartney has just flown in from England, joking about jet lag and recovering from a cold. Her schedule doesn't allow room for sickness, however. It's a demanding few days of appearances for the designer - after the Adidas event, a quick outfit change and she is off to co-host her second party of the day, a Vanity Fair dinner honouring artist Bill Viola, followed by an in-store morning tea the next day, an appearance to launch her new scent Lily at beauty store Sephora, and a charity dinner that evening.
How does the busy 41-year-old prevent burnout, and keep herself happy and healthy? Always on message, she artfully counts off pretty much all the sports that her Adidas line caters for: running, swimming, dance aerobics, tennis, "when I can". She has tried paddle-boarding - her new Adidas collection includes a floral printed board - although living in Notting Hill, London isn't very conducive to doing it often.
"I really wanted to encourage women to get more involved in water sports, because there's a real strength to that," she explains. "That's something I really want to encourage with this range - to celebrate life, fitness and health. It's not the easiest thing in the world to keep fit, and in everyone's busy lives, to find the time to stay healthy and to work out. It doesn't come as easily as sticking on the telly and eating a bag of potato chips, so I want to encourage it by making [sportswear] inviting and desirable - trying to inject colour, life and energy - and fashion."
For all her fame and stature - top fashion designer, daughter of Sir Paul - and the fierce PR machine around her (the rounds of brisk group media interviews are 20 minutes exactly though we get 21 because she has a coughing fit midway through) - McCartney herself gives off a low-key air.
She looks terribly chic in white trousers and a blue short-sleeved shirt with faux croc pointed platform pumps, all her own designs, but her makeup-free face and reddish blonde hair tucked casually behind her ears make her seem almost normal: she had walked past earlier and I didn't even notice it was the Stella McCartney. But when she talks there's a directness - she gives away almost nothing personal, and expertly keeps on message the entire time.
McCartney's partnership with Adidas began in 2004, a long-term collaboration sparked after she approached the company to produce a one-off sneaker for an At a Miami waterfront mansion, Stella McCartney (left) showed off her new sportswear range for Adidas.
Early solo collection in 2002. The driving force behind their partnership has always been the idea of women not having to sacrifice style for sport, one of McCartney's favourite lines.
It is the performance side of the range that she loves, enabling her to do things that she can't with her ready to wear.
"Technology is the thing that always drives the collection [for Adidas]. That's what I, as a designer, find really interesting about this, pushing the technology and the performance. But also challenging the way that you make and produce garments. There's the non-water injection print [the Adidas DryDye technology that uses no water to dye], and I could never have developed that in my ready to wear as I don't have the technology," she explains, "Those are things I just can't do in my day job. But they don't mean much if they don't look good."
This season McCartney has featured running, swimming, yoga, studio, cycling and tennis ranges, incorporating flashes of intense, futuristic colour and metallics with candy pastels, leopard prints and feminine botanical prints, a fresh feel for performance sportswear - and perfect under the dazzling Miami sunlight.
McCartney began her brand journey in 2001, launching her namesake label with the backing of global luxury company The Gucci Group, now PPR, and also the owner of brands including Balenciaga, Yves Saint Laurent, Alexander McQueen and, as of last week, Christopher Kane. (She had previously worked as creative director at Chloe, succeeding Karl Lagerfeld in 1997 when she was just 25).
The brand has grown to the point that, according to the New York Times, the company has estimated annual sales of US$120 million, a figure that doesn't reflect the brand's strong licensing power with the likes of Adidas. The mainstay of the brand, the fashion ready to wear and accessories, now sit alongside Stella McCartney sportswear, fragrances, lingerie (produced in collaboration with New Zealand company Bendon), kidswear, sunglasses and, the latest brand extension announced earlier this month, opticals. The brand is so strong that for some the name McCartney represents the woman rather than her famous father.
The Business of Fashion website recently quoted one fashion expert as saying that the business, with its strong lifestyle branding and licensing across lucrative product lines, could one day become the "Calvin Klein of Europe".
It has been built on McCartney's values, learned from her mother Linda, a passionate animal activist. McCartney, a staunch and outspoken vegetarian, famously refuses to use fur or leather in her collections, and with her father Paul and sister Mary launched the Meat Free Mondays campaign in 2009, to encourage people to cut down on meat. But beyond the seriousness, there is also a real sense of wit and fun to the brand. She has featured Disney cartoon characters like Bambi and Thumper in advertising campaigns, and her presentations have become known for their fun atmosphere. Last year she held a dinner presentation where models in her evening gowns blended in as guests, later "spontaneously" jumping up on the tables to dance to Led Zeppelin.
The key to McCartney's success, however, could be as simple as her unrelenting attention to what modern women want, as busy mothers, friends, businesswomen and lovers. Women admire her for being those things herself.
Although she does have the sort of charmed life that many women dream about: the stimulating career; a charmed home life with husband Alasdhair Willis, former publisher of Wallpaper magazine and founder of design company Established & Sons, and four young children, sons Miller and Beckett and daughters Bailey and Reiley; the fabulous gang of girlfriends (Gwyneth Paltrow, Kate Hudson and Rihanna); the charming red brick Georgian countryside home. She may have grown up as the daughter of a Beatle (and she's copped her fair share of claims of nepotism in her time), but there is a sense of normality to Stella McCartney.
"I have always acknowledged that I work for women, that you guys are all my boss in a sense," she says. "I think you can feel that in the brand, in the way that we approach our customers. Some fashion brands can feel very elevated a lot of the time, and it's not something that's a very Stella McCartney way of looking at things. The success of the brand is that women relate to it." A strong team helps too, she says, including New Zealander Francis Howie who works in her close-knit design team.
Stella McCartney CEO Frederick Lukoff told the New York Times that it is a company of mothers. "It's a unifying trait. These are organised, efficient moms. There are not many men, and the few are usually stunned by the level of organisation of the women."
"Women have so many different facets and needs," says McCartney. "Between the two worlds [sportswear and fashion], we address a lot of what modern women need, desire, and deserve."
•Adidas by Stella McCartney is available in New Zealand exclusively through Adidas stores and Platinum Sports Victoria Park, from February.
•Zoe Walker flew to Miami as a guest of Adidas.