Chic and sun-smart, a shade sail is essential for summer, writes Greig Morgan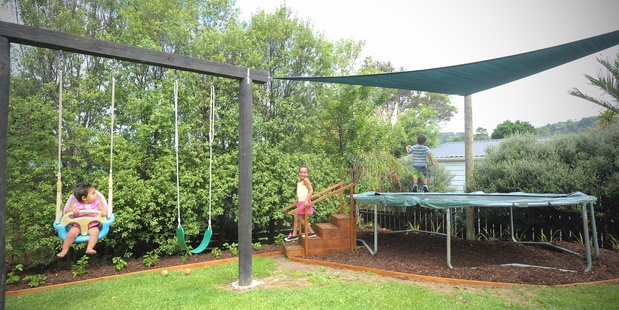 After last summer's washout we can't complain about not getting enough sun this year, but we still don't want to sit out in it for too long or have the kids play unprotected.
A shade sail can be a good solution over an outdoor dining area or a kids' play area.
Step 1: Mark the position of the posts with spray paint. Decide how tall your posts need to be. In this case the sail was going to cover our trampoline area, so the posts needed to be tall enough to account for the highest of jumps.
Remember to add another metre for the section of post that will be buried.
Step 2: Dig the post holes 400mm wide by at least 800mm deep. Centre the post in the hole and brace the post facing slightly outwards. Do this by offsetting the bubble on the level.
This position will provide added strength when tensioning the sail.
Step 3: With all the posts braced in position, fill each hole with a bucket of clean water before adding a bag of fast-setting concrete.
Mix together and then add more water and more concrete until the hole is full. Follow the instructions on the bag for best results.
Step 4: When the concrete has set, measure and mark the centre point at the top of the post. Drill a hole right through for the eye bolt. Attach the washer and then tighten the nut.
Step 5: Attach the hook of the turnbuckle to the eye bolt on the post and attach the D-shackle to the fixtures on the shade sail and the eye of the turnbuckle. Adjust the turnbuckles until the sail is nice and taut.
• Tip: If you need a post to be sited an extra long distance from the edge of the sail, attached a strong chain to the turnbuckle and adjust to suit.

Materials
• 150mm diameter posts x 3
• Marking paint
• Shade sail
• Quick set concrete
• Galvanised D-shackle x 3
• Galvanised turnbuckle eye & hook
• Galvanised eye bolt with square washers x 3
• Galvanised chain (if needed)
Tools
• Spade
• Level
• Drill
• Drill bit to suit
• Tape measure & pencil
• Ladder
• Adjustable spanner