Nigella Lawson has just the recipe for a quick and tasty pasta to whip up at the end of a hot day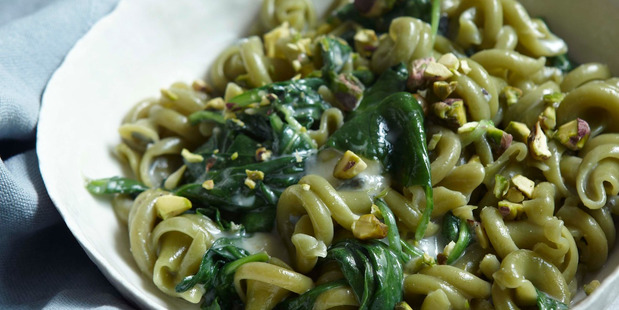 Nigellissima may be not in the same league as Nigella Lawson's other bestsellers, How to Eat or How to be a Domestic Goddess, but it still made a respectable number 21 on the UK booksellers' ranking for Christmas sales (for the record, Jamie's 15 Minute Meals made number one, if you care about these things). It may have aroused the ire of a number of British and Italian cookery writers for being "not authentic", or too full of odd ingredients or too full of fat.
But at this time of year, when we sometimes need a quick something light and summery to eat and don't feel like the rigmarole (or meat-heaviness) of a barbecue, this is an easy go-to.
If you have boiling water, pasta in the pantry and some of summer's produce, you can whip up pasta with courgettes, parsley and spring onions (okay, you will have to break into a bottle of white wine, too); blitz fresh cherry tomatoes with anchovy, garlic, capers, sultanas, almonds - Nigella is deeply fond of fruit and nuts - and basil (not even cooked, just stirred over hot fusilli); or stir spaghettini with lemon and garlic breadcrumbs; spaghetti with tuna, lemon and rocket; or her variation on risotto giallo (saffron, parmesan, cream and eggs).
You get the picture. Nigellissima may not fly in Rome or Naples, but in our kitchen it is already happily well-thumbed and splotchy.
I know this sounds like a Dr Seuss recipe (only without the elastic scansion) but it is, as the Italians say, "sul serio", no joke. I have always had a thing about pasta and blue cheese, both separately and in conjunction. This recipe is in many ways an evolution of my pasta with gorgonzola, rocket and pine nuts. I felt the need, or rather a fancy, to sprinkle the deep green of the pasta with the paler pistachios, and I add no creme fraiche or mascarpone (as I used to) since a little pasta cooking water, whisked into the cheese, makes it as creamy as you could wish for. This is not a dietary stance, but because the starchy water doesn't mute the piquancy of the gorgonzola.
If you can't find trottole or radiatori, you do get some of that clingy effect with the curl of fusilli.
Green pasta with blue cheese
Serves two hungry people
250g trottole verde or any curled pasta of choice
salt for pasta water
125g gorgonzola piccante, crumbled or chopped
100g baby or salad spinach leaves
freshly ground pepper, slightly coarser than regular, if possible
3 x 15ml tbsp chopped pistachio nuts
1 Heat water in a pan for the pasta, salting it when it comes to the boil, then add the pasta and cook according to packet instructions, but checking three minutes before it's meant to be done. This needs to be really al dente, because it will carry on cooking as you make the sauce.
2 Before draining the pasta, remove a cupful of pasta-cooking liquid, then tip the drained pasta back in the hot pan with two tablespoonfuls of the liquid, the crumbled cheese and the baby spinach, and give a good grinding of coarse black pepper. Put the lid on the pan - off the heat, though back on the stove - and leave to stand for two minutes.
3 Remove the lid, turn the heat back on low, and stir the pasta, cheese and spinach together, along with as much of the cupful of cooking liquid as you need - I find 100ml total is about right - until the cheese is melted into a light sauce and the spinach wilted.
4 Take off the heat, toss with about two-thirds of the chopped pistachios and divide between two warmed bowls, sprinkling each bowl with the remaining nuts. Serve immediately.
Be in to win
Weekend Life has Nigella Lawson's new recipe book Nigellissima: Instant Italian Inspiration, $65, distributed by Random House, to give away.
To enter, go to nzherald.co.nz/weekend, enter your details and the keyword Nigellissima by midnight, Wednesday January 23.
Nigellissima: Instant Italian Inspiration, by Nigella Lawson, $65, published by Chatto and Windus, distributed by Random House. Photography by Petrina Tinslay.