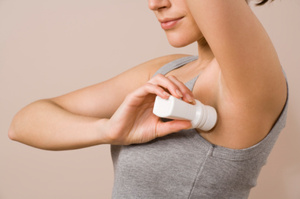 There exists among us those who are incapable of producing underarm odour - but because of strict cultural norms, they wear deodorant anyway.
This is the suggestion from Bristol University researchers, who interviewed 6,495 women about their odour-busting habits.
It found that 2 per cent of participants carried a genetic variant of the ABC11 gene, which means their underarms are completely odour-free.
However, nearly 80 per cent of them choose to wear deodorant regardless, the Journal of Investigative Dermatology reports.
Lead author Professor Ian Day suggests adherence to the expectations of a scent-obsessed Western world is to blame.
"We believe that these people simply follow socio-cultural norms. This contrasts with the situation in North East Asia, where most people do not need to use deodorant and they don't."
These findings also provide insight into deodorant habits of the future, fellow researcher Dr Santiago Rodriguez said.
"These findings have some potential for using genetics in the choice of personal hygiene products.
"A simple gene test might strengthen self-awareness and save some unnecessary purchases and chemical exposures for non-odour producers."
Checking whether you are scent-free and unaware is, reportedly, a simple process.
Those who carry the gene variation usually have dry, rather than sticky, ear wax.
- www.nzherald.co.nz