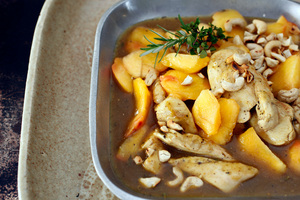 Serves 6
• 1kg of boneless skinless chicken breasts cut into generous bite-sized pieces
• 25g of butter
• 1 cup of chicken stock
• ½ teaspoon of fresh thyme and rosemary, finely chopped
• 1 teaspoon of mild curry powder
• 1 tablespoon of cornflour or arrowroot dissolved in 2 tablespoons of cold water
• 1½ cups of peeled, sliced nectarines
• ½ cup of chopped cashew nuts
• Salt and pepper

1. Melt the butter and brown the chicken pieces.
2. Add the chicken stock and the herbs and poach the chicken gently until cooked. Set aside.
3. Add the curry powder and the dissolved cornflour to the liquid and warm to thicken.
4. Add the nectarine slices and the chicken pieces to the sauce to warm through. Season with salt and pepper.
5. Finish with a squeeze of fresh lime or lemon to zing up the flavours.
Garnish with the cashews.