Whether you like picnics on sandy beaches, surrounded by native bush or in the middle of the city, Danielle Wright finds a spot to suit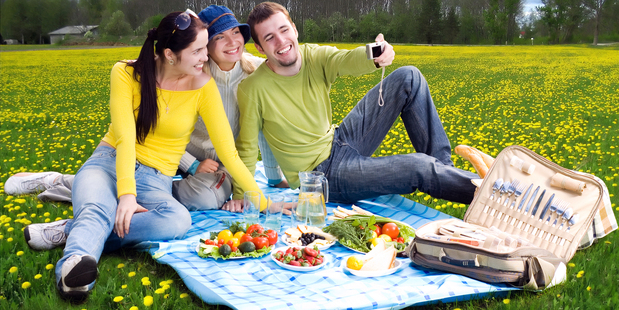 The idea of a picnic - sharing a meal outdoors, usually in a beautiful location - has its roots in England where celebrations were often elaborate outdoor hunting feasts, medieval country banquets or later, Victorian garden parties.
In modern-day New Zealand, picnics are the perfect fit for our laidback attitude, delicious produce, and spectacular surroundings. They're what summer days are made for. Here's a range of picnic spots to suit any mood:
Karaka Bay
Past the usual picnic spots at Mission Bay and St Heliers is a lesser-known beach paradise, Karaka Bay. Walk past an unusual collection of letterboxes, down a steep and winding pathway and you'll come across a row of baches and a beautiful white sandy beach, with views across to Browns Island. It transports you to summer retreats further afield. There are huge trees to climb and swings hanging from branches. Go beach-combing and you might meet one of the local residents, such as American author Jeffrey Masson or artist Corina Koning. At low-tide, walk from Karaka Bay along the cliffs to Ladies Bay and on to St Heliers, or stay put in the shade with water lapping near your picnic blanket.
Entrance is off Peacock St, which is off Riddell Rd, Glendowie.
Stop off at Tower Bakery on Waimarie Ave for picnic treats on the way.
Ambury Farm Park
After a ride around the pretty Kiwi Esplanade waterfront at Mangere Bridge, or along the mountain bike tracks, set up your picnic in the grounds of Ambury Park Farm. Stroll through the paddocks to see sheep, cows, pigs and rabbits. A walk from the woolshed to the Lost Garden towards Kiekie Rd will take you past Maori stone mounds and parts of an old windmill. There's also great birdwatching and examples of basalt lava flows. Choose from electric or wood-burning barbecues (bring your own wood).
43 Ambury Rd, Mangere Bridge, South Auckland.
Cornwallis
Picnicking is serious business at Cornwallis and there are plenty of tables and barbecues, as well as toilets and shelter. There are also walks through native bush, including the baby-buggy friendly Orpheus Graves Walk and the Kakamatua Inlet Track. Or just beach-comb along the 2km shoreline and visit the 200m-long restored Cornwallis wharf, the last of the Manukau's 16 ferry wharves. When we picnicked here, we felt like Snow White, walking through the soft grass with a couple of fantails following us wherever we went.
From Titirangi Village, take Huia Rd. Cornwallis is signposted off to the left.
Cascade Kauri
After an easy walk through Cascade Kauri regional park under the shelter of giant kauri trees and past a tiny waterfall, enjoy a picnic in wide open spaces surrounded by spectacular views of the ranges. One area is set on quite a steep hill so ball games can be an endurance feat. If you get too hot in the sun, walk up the road to the welcoming Waitakere Golf Club for a cold drink or an icecream. Race boats on the stream under the bridge on your way back.
Falls Rd, Waitakere.
Albert Park
You can picnic among the flowers in the heart of the CBD, and climb the giant magnolia trees afterwards. It's a great place to relax after dragging the kids around the shops, or to meet family members stuck at work in the city. The Auckland Art Gallery on the edge of the park will provide relief from the sun and has interactive art activities for the children.
Princes St, Auckland City.
Auckland Domain and Wintergardens
You might not know you're picnicking on a volcano when you're in the lush Auckland Domain, but there's a huge crater stretching from the Auckland City Hospital to the Auckland Museum, providing plenty of slopes for the kids to run up and down, as well as the chance to spot a large volcanic 'bomb' nestled between the trees facing the Domain's grandstand. After your picnic, feed the ducks or take a walk in the Wintergardens, designed in the 1920s with rare and spectacular plants in Victorian-style glasshouses. The last time we visited, the caretaker let us feed the fish, which didn't mind getting their noses rubbed as they nibbled the food. The Wintergarden Pavilion has a kiosk with coffees and icecreams if you run out of picnic food.
Kiosk Rd, Parnell.
St Patrick's Square
North-facing and sheltered, St Patrick's Square is an urban retreat with public art and award-winning landscape design. The water feature set into the steps keeps kids entertained for hours and the Cathedral store is worth a visit for its interesting jewellery and artwork. If you're lucky, you might hear the beautiful voices of the choir as you picnic.
Wyndham St, between Albert and Hobson Sts, Auckland City.
Silo Park
With views of the city skyline and the Harbour Bridge, as well as a playground mimicking the bottom of the sea, Silo Park is a great summer picnic spot. Come on a Friday evening from 5pm for the Silo Night Market featuring pop-up clothing stores, tarot card readings and a bar, as well as weekly entertainment from local and international DJs. On a Saturday from noon-6pm a market featuring food stalls, vintage clothing and street performers will give you something to look at after you've eaten, or come on an outdoor movie night to extend your picnic into the evening.
Corner of Jellicoe and Beaumont Sts, Wynyard Quarter, Auckland City.
Mt Victoria
Sit on the 'toadstools' scattered over the summit, and take in the beautiful views over the city and to Rangitoto as the sun sets. It can get windy so be prepared to hang on to your light items as well as saving them from the seagulls. Take some cardboard to slide down the sides of the hill afterwards. Come on a Monday evening and catch the Devonport Folk Music Club's weekly performance at The Bunker, also on the summit.
Entrance from Kerr St, Devonport.
Maraetai Beach
If you can't make it across to Waiheke, take your picnic to Maraetai Beach, with views across to the island, room to fly a kite and shady trees under which to spread your rug. There's a wharf to fish from, or visit the nearby Clevedon Oysters for the juiciest oysters farmed on the Clevedon Coast and Waiheke Island (open Saturday 9am-2pm). There are a couple of playgrounds back from the beach, and icecream shops along the waterfront.
Maraetai Drive, Maraetai.
There's no picnic place like home
One of my favourite things to do with my children is to have a picnic at home. Usually they will invite their teddies, or lately, their entire collection of Trash Packs, as well as helping to choose what we will eat, piling things on to little plates and taking pride in setting up the picnic blanket in exactly the right spot. When we have plenty of time, the kids even make elaborate invitations for their soft toys and 'deliver' them the day before. Taking beanbags out into the sun and reading books to the kids is a bonus of picnicking at home, where you don't have to limit what you take with you.

What to pack
Forget the plastic wrap and opt instead for greaseproof paper and string to wrap sandwiches and cakes, avoiding tomatoes and dressed lettuce, which tend to go soggy or slimy in minutes. Bring plenty of food to last throughout the afternoon and make sure there's something sweet at the end. Finger food is best and don't forget rubbish bags.
Rugs, tablecloths and cushions, as well as games, mosquito repellent, sunscreen and even an umbrella, are essentials for a lazy afternoon. For evening picnics, tea lights in small glass jars will create a special ambience before the stars come out.
If you want to take some of the work out of picnic preparation, have a basket put together for you by a delicatessen such as Chateaubriant in Vauxhall Rd, Devonport. Zarbo (www.zarbo.co.nz) also puts together picnic hampers, from a "light lunch" to a "fabulous feast". If you're in Wellington, try Picnic Daze for beautifully-presented picnic baskets delivered to your door.