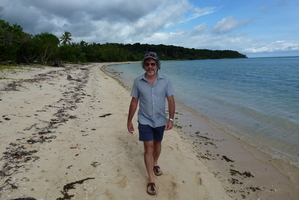 For the first time in more than 10 years, Kiwi chef Peter Gordon has swapped his grill for a barbecue and is spending his summer in Australia and New Zealand.
Last year, he spent his January holiday in England, at his home in London, in the Cotswolds and in Turkey.
But this year, he has swapped the rain, clouds and cold for the sun and clear blue skies.
Gordon said he chose Australasia for "warmth, sun and my partner, but not necessarily in that order".
His holiday started when he and partner Alastair flew from London to spend a few days in Auckland.
From there, they headed to Australia. Gordon said their Aussie experience started in Eumundi, a small town in Queensland, before continuing to Melbourne.
The two spent their time there sampling Melbourne's cuisine - the Greek cafes, espresso coffee and fresh seafood - all "research", said Gordon.
They finished up with a trip to Gippsland to see Gordon's mother.
"All you need for a great summer is warm, balmy weather, swimming, plenty of seafood and a barbecue."
Gordon said he and Al were also visiting New Zealand for work and a quick stop with to his father in Wanganui. "I'll be back in wintry London towards the end of January, unfortunately."
He said it had been a while since he had had a truly great summer.
His favourite was a family holiday in the late 1970s at Stony Bay and Fletcher Bay at the top of the Coromandel Peninsula.