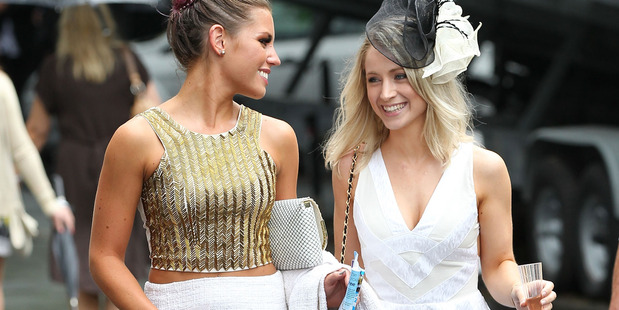 For many Aucklanders, the Christmas holiday race meetings at Ellerslie are an annual tradition.
I haven't been a regular at the track over the years. Getting into flash clothes the day after a huge Christmas feast has always seemed too much like hard work to me.
But given that I had my Mum, and my daughter's dad and step-mum, up for Christmas, all of whom enjoy a bit of a flutter, it seemed like an ideal opportunity to do what so many holidaymakers do and have a Boxing Day at the races.
I was going to get my money's worth out of my eye-wateringly expensive fascinator, too, as I'd been invited to join friends at the New Year's Day races as well.
My word, it was a tale of two meetings, that's for sure.
The Auckland Racing Club has worked hard to attract younger people to the races, marketing a day at Ellerslie as a genuine entertainment option.
They focus on the fillies in frocks as much as the four-legged fillies, and it seems to have paid off.
Even on a cloudy, rainy Boxing Day, tens of thousands of people turned up at Ellerslie this year and most of them appeared to have been born in the 1980s.
My Mum was the oldest person there by about 40 years, and I was the second oldest by 20. It was most disconcerting.
At times I even found my mouth forming a cat's bum moue of disapproval as the young lovelies in their skyscraper heels and teeny-tiny minis leaned over the counter to point out the beer they wanted.
Showing one's bare bottom may be a way of attracting sexual attention in the animal kingdom but it seems a little excessive at the racetrack, I muttered to our table, before realising that I was tempting a bolt of lightning to strike me, given my dubious fashion choices over the years.
We had an interesting day, the 10 of us, with my son-in-law making the final six in the Fashion in the Field. Overall, though, it appeared to be a day for the young 'uns and I think in future I'll leave the Boxing Day races to them.
When I am one of the more decorous and dignified women at a function at the end of a long, champagne-fuelled day, then you know things have got pretty ropey.
However, New Year's Day was a wonderful occasion, helped in no small part by the fact that the first day of the year was absolutely glorious.
Only half the number of punters were there as well, which helped, and those who were there seemed to be more my contemporaries than the Boxing Day crowd.
Certainly, I didn't see one exposed bottom the whole time. And the stories from some of the winning owners reminded me of why I love racing so much.
Habibi's owners bred and helped to foal her. They are farmers from Taranaki who never dreamed they would one day have a horse that is on the verge of becoming a champion. Very few horses have five wins from five starts.
The owners love the horse - her name means Dearest One and that's what she is to Peter and Heather Crofskey, who share her in partnership with their son and a family friend. They never expected anything when they started racing her and are in it to the end - however it turns out.
The same was true for Murray McKeagg, the owner of the horse that won the ninth race.
He has retired after working in the Aussie mines for years, and he now trains his horse Hiace, which he bought for just $2500.
He doesn't have his own facilities - he rents space from another trainer - and his utter joy and delight when Hiace won was wonderful to see.
Having been part of a successful syndicate years ago, I know how good it feels to have a winning horse - even if you have a tiny share and really own only the whiskers on the horse's nose.
Horse racing may be known as the sport of kings but it's the stories from the ordinary, every-day people - the Cinderella stories - that give the sport its magic and keep me coming back to the track.