The second in our series on animal companions that add to our holiday enjoyment features an Olympic great.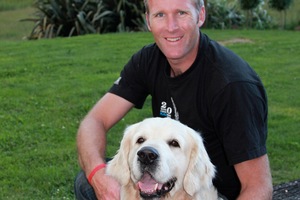 Champion rower Mahe Drysdale says his golden retriever has a special place in his heart because of the death of a pet puppy when he was a boy.
The self-professed animal lover, who lives on a Cambridge lifestyle block with a collection of cows, chickens, cats, a pig and two dogs, says he dearly wanted a dog when he was younger but tragedy struck when the much-loved pup died at 3 months from parvovirus.
"It was quite tough for me but I always wanted a dog from then on."
Many years passed before Oslo, who is now 5 years old, was bought from a breeder in Otaki.
"He's quite a character. He loves being around us and he sulks when we go away," says Drysdale. "But he's so happy when we come home."
Drysdale says last year was tough as he focused on winning gold at the London Olympics.
He spent only 20 days of the past six months at his idyllic Cambridge property and was cherishing a summer of staying at home and taking both dogs, Oslo and flat-coated retriever Dasha, away with him and girlfriend Juliette Haigh whenever possible.
They are particularly fond of water, hesays. "If you get them anywhere near the sea they're starters."
He is fortunate that he can leave his animals in the care of his flatmate or at his mother's house rather than boarding in kennels.
He says the dogs are constant companions and are incredibly loyal.
"The dogs don't forget you. They give you a lot of attention. It's awesome."
And while he wouldn't say no to more dogs, he has his hands full with Dasha who is still a pup and completely obsessed with playing fetch.
"I would love to have more dogs but Juliette doesn't want any more. She says two is enough at the moment."