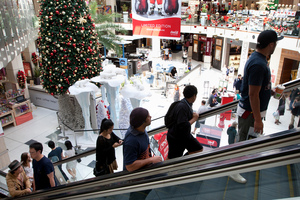 Men will fork out almost $100 more than women on their better half's Christmas present this year.
Results from a Colmar Brunton poll have revealed that men will spend roughly $257 to buy a Christmas gift for their partner, while women will spend $166.
While most men might seem more giving during the festive season, nearly one in 10 dread this time of year, and only one in five think about buying Christmas gifts throughout the year, compared with one woman in every three.
In general, New Zealanders will spend an average of $813.56 on Christmas gifts this year, buying for an average of 11 people.
Browsing in shops still remains the most popular way to get gift ideas, but online shopping is proving to be a popular alternative with about 25 per cent of New Zealanders using online shops to browse for gift ideas this year.
New Zealanders are also using browsing on their smartphones, with 27 per cent of those surveyed saying they at least sometimes used their phone to search for and buy gifts online.
Those who use shops to search for ideas might actually find themselves buying gifts, with retailers working hard to grab shoppers' attention by making their shop attractive and alluring.
University of Canterbury marketing associate professor Paul Ballantine said retail stores created an atmosphere at Christmas time which ended up enhancing the chances of purchases being made.
"In the same way that a natural environment - such as a lake and mountains - can make people feel good, retailers have long been trying to understand how an artificial environment like a retail store can make people feel good."
People would spend more time and money in stores they liked, he said.
"Department stores in particular are known for their Christmas window displays, which are used to draw people in.
"Equally, performance groups such as choirs, or the ability for kids to meet Santa, are all things that can make shopping more of an event at this time of year," he said.
Colmar Brunton interviewed 1024 people around New Zealand between late November and early December this year. The survey had a maximum margin of error of +/- 3.1 per cent.
What men would like to see in their stockings:
* Tools/power tools
* Vouchers
* Books/music
* A tablet or iPad
What women would like to see in their stockings:
* Clothes
* Vouchers
* Books/music
* Jewellery
* Perfume
* A tablet or iPad
* Plastic surgery
* Lingerie
* Sex toys
Source: Colmar Brunton
- APNZ