Tap into the value and variety of good gift boxes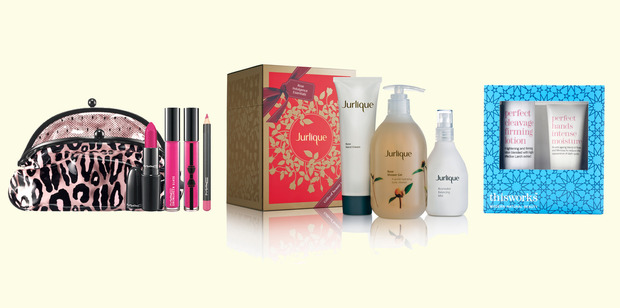 If you haven't sorted your Christmas selections yet you may be starting to panic about finding the perfect present for each person on your list. Go easy on yourself by simply buying a gift set, either of something you know the recipient already likes or as a cool introduction to something new that you think they will love.
Sets are great samplers, so there's almost certainly going to be at least one item in the line-up that will suit, and several more to try. They're also often good value, especially - relatively speaking - for pricier prestige skincare, fragrance and cosmetics items, so why not stock up on someone's favourite brand or try some of our festive finds? The other plus is that holiday sets are usually beautifully boxed so there's no awkward issues with wrapping. What's not to like at this busy time of year?

1. Napoleon Perdis Holiday Lip Gloss Collection - $39
Five decent lip glosses at this price is a deal well worth taking. Napoleon also has a smart box into which you can pack your own selection of goodies.
2. M.A.C Fabulousness Primped Out Lip Look Bag in Luxurious Pink - $100
M.A.C's gift sets are always a treat, with options aplenty like these for lips and eyes. Most of the sets come in cosmetic bags or palettes, but the artistically inclined should look out for mini hatboxes of pigment powders.
3. Nars Andy Warhol Edie Set - $156
What else but a film canister to house the makeup kit named after 60s Factory favourite Edie Sedgwick? The lost cause beauty with the bleached hair matching that of her movie mentor has inspired a kit containing nude pink matte lipstick, a black eyeliner, creamy eyeshadow and delicate blush.
4. MOR Under the Tuscan Sun set - $69.90
Melbourne-based gift company MOR makes some of the best value, luxury-look sets about. This quality toilet bag contains a blood orange soap, handcream and lip macaron, but the cheaper blood orange handwash and lotion box is also a winner, plus there's a host of fun mini-sized items to choose from.
5. Stila Seeing Stars Smudge Stick Waterproof Eyeliner Set - $78
These five shimmery metallic pencils are summer-proof stayers in Stila's most popular shades. Stila also does a good box of glosses.
6. Jurlique Rose Indulgences set - $132
Bathe in the soft scent of roses, cool off in the heat of the day with rosewater mist and then soothe those tired hands in the evening. Three full-sized products beautifully boxed from Australia's premier natural brand.
7. This Works Perfect Cleavage and Hands Kit - $112
If this combination sounds a bit personal there's a gift set for hands and feet (for $52), but for summer sun worshippers a bit of pampering of the exposed decolletage will be appreciated. This Works is an English company started by a former beauty director at Vogue to incorporate her ideas about combining aromatherapy and active natural ingredients.
8. Narciso Rodriguez for Him set - $115
A friend doing a spot of duty free shopping recently got chatting to an air hostess and was advised that this fragrance was a favourite among the pilots. She snapped up a bottle and gave it to her son who has hitherto worn mainly sporty fresh scents. The big bruiser took to the sophisticated musky mix and splashed it about like a high flyer. The box set adds a shower gel to the 50ml eau de parfum.

Stockists: Napoleon Perdis from selected Farmers stores. M.A.C from Britomart, St Lukes and Botany stores (with Smith & Caughey's stocking other colour options). Nars, Stila, This Works from Mecca Cosmetica stores. MOR from department and gift stores including Redcurrent, for stockists, ph (09) 378 4105. Jurlique from department stores and selected pharmacies. Narciso Rodriguez from selected Farmers, ph 0800 744 734, and Smith & Caughey's.