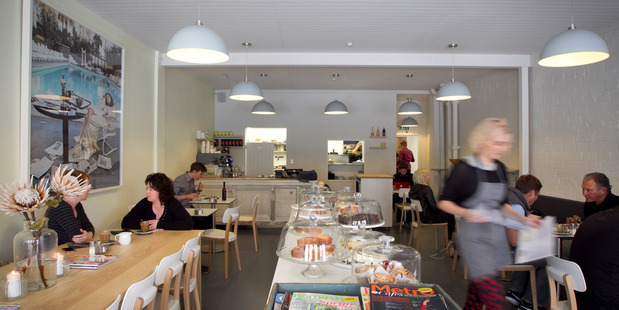 We came here because we had heard the fine Zus & Zo of Herne Bay had opened a sister cafe in the McKenzies Precinct.
Parking was easy, plenty of pay and display spots in the parking area off the Strand.
We walked in and immediately thought it was a light and spacious room and the huge photo of Faye Dunaway and her Oscar dominated to effect in the otherwise white and cream decor. We also liked the central bench with patisseries on display.
The most unusual thing on the menu was, as is increasingly the case these days, not an issue. The menu holds both breakfast and lunch fare.
We ordered grilled asparagus with poached egg, parmesan and olive oil on seeded toast ($13) with a side of bacon ($6) and a warm goat's cheese open sandwich with asparagus, courgette, sun-dried tomato pesto and almonds ($17). While both were tasty, the meals were on the small side.
The coffee was Millers brand and very good.
The service was just that, service. We were served, but with no frills.
We recommend if you come here you indulge in a pastry or cake, too, if you are particularly hungry.
Overall we thought the location of Zomer is perfect for a beach trip or shopping, but portion sizes could be revisited as less is not always more when trying to attract customers.