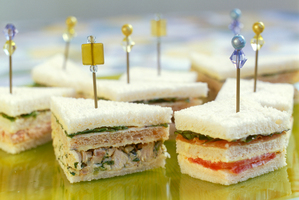 Make this sandwich in summer when tomatoes and basil are in season. Prosciutto is a particularly delectable and luxurious sandwich filling. Seek it out at specialty food stores or supermarkets.

Makes 24
• 350g-500g (3-5) tomatoes (ripe but firm)
• 18 slices white sandwich bread
• 200g butter (softened)
• 285ml (1 cup + 2 tbsp + 1 tsp) Sandwich Mayonnaise
• ½ tsp flaky sea salt
• ¼ tsp freshly ground black pepper
• 120g-140g (12) prosciutto slices
• 24-36 basil leaves (washed and dried)

1. Using a sharp serrated knife, slice tomatoes into 4 or 5 thick rounds, discarding the ends. Place tomato slices in a single layer between paper towels and leave for 5-10 minutes to remove excess moisture.
2. On a clean work surface, place bread slices in 3 rows of 6.
Butter all slices then spread with Sandwich Mayonnaise. Top first row with tomato slices, season with salt and pepper and cover each with a second slice of bread, buttered side down.
3. Butter top layer of bread and spread with mayonnaise. Top with 2 slices of prosciutto and 4-6 basil leaves. Top with final slices of bread, buttered side down. Using an electric knife, remove all crusts then cut sandwiches into 4 squares or triangles.

• Recipe reproduced with permission from Ruth Pretty Cooks At Home by Ruth Pretty (Penguin Group NZ, RRP $65).