Summer will be fun for all with song, dance, arts and crafts among the attractions, writes Dionne Christian - and don't forget the fireworks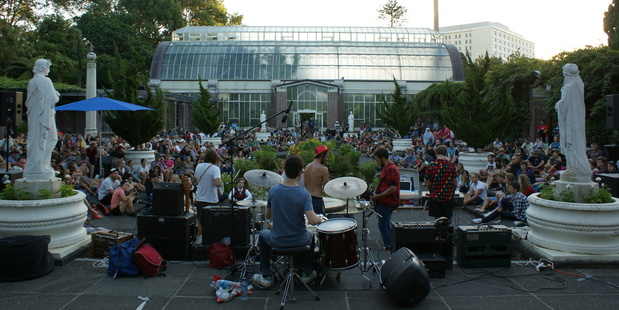 If the weather gurus are right and summer is a sunny one, it will be extra tempting to jump in the car and take the family to one of the many fantastic festivals on around the North Island. Here's our selection of the top spots for partying this summer.

NORTHLAND/BAY OF ISLANDS
There's a new family friendly festival in the winterless north this summer. Called The Honey-Jam Music Festival, the line-up during its two days (Saturday January 26 and Sunday 27) features Supergroove, Batucada Sound Machine, the Thomas Oliver Band, 1814, Iva Lamkum, the Nudge, Bonjah, Lydia Cole, Young Lyre, Louis Baker and guest DJs. The festival is at Te Kowhai Point Farm, Kerikeri and organisers promise everything will be compact so there'll be no "endless queues for food, drinks or - very importantly - toilets".
The Grand Pageant of Waipu at Waipu Museum, Bream Bay happens only once every 10 years and this year commemorates the 160th anniversary of Nova Scotian settlers arriving in Waipu.
On the evenings of Friday January 11 and Saturday, 12, there will be no moon and a full tide in the "Glebe", providing an atmospheric backdrop for the people of Waipu to retell the epic story of New Zealand's oldest European community. This outdoor spectacular includes a light and sound show, Clydesdales and horse-drawn vehicles, bullock teams, vintage cars, kapa haka, waka, a croft burning, pipe bands and a fireworks finale. It's all narrated by author Dame Fiona Kidman. The evening programme starts at 7pm with tickets at $60 for adults and $25 for children.
The annual Mangawhai Gala Day on January 2, at the Mangawhai Domain, is for all ages and includes entertainment, rides, food and shopping, raising funds for the local community. Run entirely by up to 100 volunteers, it attracts up to 7000 visitors per year.

MATAKANA
Ascension Wine Estate is busy with various touring musicians (as is the nearby Matakana Country Park), but it also has a treat for live theatre fans: Shakespeare in the Vines. Having created a first for the Auckland region early in 2012, Ascension and Melbourne's Essential Theatre have joined forces again to present the cross-dressing classic romantic comedy Twelfth Night. The play is performed in the vineyard with the actors surrounded by a relatively small audience sitting on picnic rugs and chairs. The one and only performance is on Saturday, January 5 (gates open at 6pm, play starts at 7pm) and should the weather not play its part, can be moved indoors. There's also the option to book the "Dinner & Play" option, which includes reserved seating at the only tables.

AUCKLAND
Silo Cinema and markets are well under way at Silo Park. Auckland Anniversary Weekend will be particularly busy with The Mayor's Movie on Friday, January 25, when Mayor Len Brown selects a film for Aucklanders to enjoy and, on Saturday, a family-friendly free music event curated by Laneway at a prelude to Laneway Festival on Monday (that's an R18 gig, by the way). Mixit is a multicultural youth project using the arts to empower and connect young people with refugee backgrounds to "mix it" with migrants and local youth. Silo Park is the venue for free performances on January 12 and 13 (at midday, 2pm and 4pm) of Crossroads, which features 30 young performers from Burundi, Congo, Ethiopia, Eritrea, Fiji, New Zealand, Palestine, Somalia, South Africa, Sudan, Tanzania and Tonga who bring to life their personal stories of journeys, boundaries crossed and new territories entered. Open rehearsals will be held in the four days leading up to the event so the public can get a glimpse of what goes into creating such a work. Sound, film and photographic installations exploring the underlying performance themes will run throughout the weekend in between performances.
Now in its 20th year, Music in Parks returns this summer providing Aucklanders with 43 opportunities to enjoy free music and a good time for the 19th year in a row. As well as increasing the number of shows, the season is extended across 20 Auckland Council local board areas, a marked increase from last summer's 13. With a range of performances by both big-name and local talent, Music in Parks features opera to hip-hop and everything in-between. A full list of venues, concerts and event dates will be announced shortly, but so far the line-up includes Sola Rosa, Tahuna Breaks, Midge Marsden, Giatnkilla and Avalanche City.
The Oratia Jungle Festival, at Landsendt Subtropical Gardens, is a one-day celebration of top local music, food, wine, art and film in unique and stunning surroundings. Featuring entertainment from acts such as The Nairobi Trio, BlackSandDiva, Huia Hamon, and Lewis McCallum, this family event is on Saturday, January 19 from midday-11pm. Once the sun goes down, Robin Kewells' world cinema under the stars begins.
2013 marks Auckland's 13th annual International Buskers Festival with performers from around the world - acrobats, juggles, hula-hoop artists, mimes, comedians, magicians and many others - who take to the streets for Anniversary Weekend (January 25-28). They'll perform at locations around the central city including Queen St, Princes Wharf, Viaduct Harbour and the Wynyard Quarter.
The entertainment is free - but voluntary donations, depending on how much you love each act - are very much appreciated.

COROMANDEL
Given Coromandel is one of the country's favourite holiday spots, there are no shortage of summer festivals. There are all-ages family events in Whitianga including, at the Town Hall, the Summer Fair from Friday, December 28 to Sunday, January 6.
This has an eco-friendly theme: think vintage clothing, recycled wood furniture, locally made handcrafts and jewellery, organic food and fair-trade products. Whitianga also hosts the Mercury Bay Summer Festival on December 30, with arts and crafts stalls, games and family activities, music and entertainment from local artists and, of course, food.
The Matarangi Beach Summer Festival goes for 12 days from Thursday, December 27, at various venues, with events such as the famous Cardboard Cup, where competitors sail a vessel they've built from cardboard, fishing competitions, a kids' disco, the Miss Matarangi contest, a treasure hunt and the Big Beach Day Out.
Likewise, the Whangamata Summer Festival begins that same day, providing a focus for youth, young families, locals and holidaymakers and the elderly. There are five night-time concerts, including an all-ages, alcohol-free New Year's concert and Opera in the Park on January 1. Other events include the popular Miss Whangamata contest on Friday, December 29 and the Coca-Cola Activation in the Park on Friday, 4 and Saturday, January 5, which features a tug-of-war, a Frisbee throwing competition and a Cardboard Cup. If you're looking for something a little more, um, deep and meaningful, the Prana New Year Festival, from December 30 to Thursday, January 3 at the Prana EcoRetreat, Oputere Beach, Whangamata could be the ticket. It features arts and crafts workshops, kidszone, yoga, dances, acoustic jams and circus performers, as well as social dialogue, conscious cinema and workshops. Festival organisers say 2013 is all about an "awakening in humanity".

BAY OF PLENTY
Summerfest returns for its second year at Blake Park, Mt Maunganui on Saturday, February 2, 10am-9pm. The all-ages festival is to showcase top talent with a BoP connection. This year's headliners are I Am Giant, Titanium and J Williams, while other local acts will be Aaron Saxon and Alice Ecila, Swamp Thing, Nick Barrat, Vega, RPM and Leilani Taula. Also featuring are the Packing Heat Battle of the Bands and Packing Heat Dance Battle and Urban Dance Crew. Last year, 11,000 people turned up; this year organisers expect a capacity crowd of 15,000.

ROTORUA
The thermal hotspot has a new three-day festival for summer 2012/13. GLO has been put together with family in mind and includes a traditional street fair with buskers and a bazaar and, on New Year's Eve, a family Party in the Park, an R18 Street Party and, at midnight, the biggest man-made fireworks display that Rotorua has ever seen. Party in the Park, at Village Green, runs from 6pm-9pm with fireworks to finish so the kids don't miss out; the adults' street party, on Tutanekai St, kicks off at 8pm with live entertainment from DJ Huddy, Kougar Sisters, Taste of Irish, Major Band and Stylus plus fire dancers and food stalls.
It's free, but numbers are limited. On New Year's Day, there's the First Big Brunch picnic from 11am-2pm with live entertainment. Bring your own picnic or enjoy a tasty treat from one of the stalls on Eat Street.

WAIKATO
Christian music festival Parachute 2013 runs from Friday, January 25 to midnight Sunday, January 27 at Mystery Creek, with an extensive line-up of artists and guest speakers.
The all-ages festival includes The Tip-Top Kids programme with activities and music for the young 'uns.

TAUPO
Pat Benatar and Neil Giraldo, Bachman & Turner, and America come to the Taupo Amphitheatre on Saturday, February 16 for the town's annual Summer Concert from 11am-6.30pm. Collectively, the three bands have had 18 chart and 21 album hits in New Zealand alone so it's bound to be a popular event. Children 12 years and under free when accompanied by an adult.
They also perform at Matakana County Park the following day.

GISBORNE AND THE EAST COAST
Alternatives to Rhythm and Vines include the Mt Hikurangi Dawn Ceremony held annually at the country's highest non-volcanic peak, which Ngati Porou believe to be the final resting place of Maui's waka. The peak is regarded as the first land in the world to catch the dawn of the new day. Two days later, on January 3, the Ngati Porou Pa Wars are held in Tolaga Bay attracting thousands to the inter-marae family sports day, which also includes musical entertainment.
The Pohutukawa Music Festival, held under the Pohutukawa Tree in Te Araroa (near the top of the East Cape) on Saturday, January 5 is a family-friendly, drug/alcohol and smokefree event for people of all ages. Featured acts include Maisey Rika, Cornerstone Roots, MTI, Dion Whaanga as well as local groups and kapa haka. Four days later, the East Coast welcomes a new festival East Coast Vibes, a roots and reggae event at Gisborne Outdoor Theatre but, again, it's R18.

HAWKES BAY
Moana Park, in Taradale, hosts its annual "community service" event, Another Day in Taradise, on Sunday, 20 January. It's billed as a day of great wine, smooth tunes (this year from Daniel Munro and Chanelle Davis) and tasty food.
OpenAir Cinema is under way at Black Barn Vineyards which has a purpose-built amphitheatre nestled in a picturesque vineyard and grassed terraces on which to recline, enjoy a picnic and glass of wine while watching a movie. The big screen is lit up during December 27-30 and January 2-6. On Saturday February 16, there's Mid Life Crisis at Black Barn. Mid Life Crisis are hanging up their instruments after this, their final concert of classic dance tracks after 23 years.
The annual Mission Estate Concert is one of the country's best-known musical events. The 2013 show, on Saturday, February 23, features sole surviving Bee Gee Barry Gibb who pays tribute to his brothers along with special guest Carole King and the Wellington International Ukulele Orchestra. Ticket-holders under 18 must be accompanied by an adult.

TARANAKI
Tropfest is the largest short film festival in the world and a launch-pad for emerging film-makers and their muses. Tropfest NZ presents its first stand-alone short film festival on January 27 at the TSB Bowl of Brooklands, New Plymouth. Free.