Russell Duurloo, rum-maker, music teacher and all-round handyman, tells Elisabeth Easther what he loves about living on Waiheke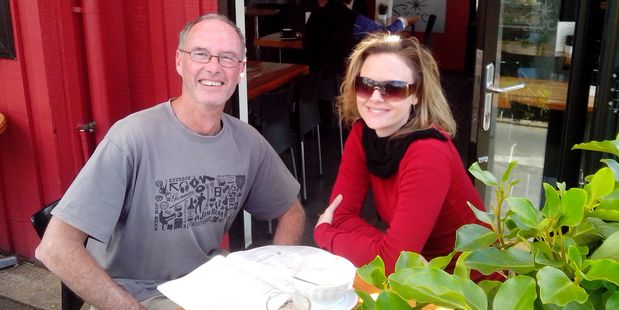 From the diverse community, to the beautiful beaches, not to mention the fact you can make your own rum in a Poderi Crisci's empty wine vat for 11 months of the year, Waiheke has it all. I live on a 10-acre block right in the centre of the island. I've been here since 1985 and bought the land and built my own house in 1996. It looks like a church, with high pitched ceilings and decks on both east and west sides, so if it's windy on one side, I go to the other. I used to live in Papatoetoe in a freezing cold house and determined then I'd never live in a freezing cold house again.
When I came to Waiheke I took a job as a teacher at the area school and ended up being the music teacher. I did that for five years, then decided I was a bit tired of teaching full-time, so went into relief teaching. Having a 10-acre block keeps me busy; yesterday I mowed the top ridge with the tractor, it took four hours and I still have two thirds to go.
I love Onetangi Beach, the water is beautiful. And because it's such a big long beach you can find a spot that's reasonably private, even over summer.
It is chocka with people in the high season, but the moment the summer holidays have ended and everyone has gone back to work, it's like having your own private paradise. Although I'm always looking for sharks - some people look for the shore but I look for fins. No one I know has been bitten by a shark, but I think about it a lot and I have my plan of attack.
I've got an artificial leg, so my aim is for the shark to get the steel leg, give him that, and then come back to shore.
I love Poderi Crisci on the Awaawaroa Rd, it's rural and looks out over the eco village. It's sunny, it's sheltered, the people are really good, the food is delicious. It's on the higher price side but they do a long lunch on Sunday with eight courses where you pay 60 bucks and chat with your neighbours and friends. They just bring out all this food, and you spend the whole afternoon there, as it takes two or three hours. It's a degustation type thing. I do my rum-making there too. Lovely spot.
The Mangrove Takeaways in Ostend have the best pies. A pie from there lasts you all day, cheese and steak, mince and cheese, fish pie on a Friday, proper homemade pies, full of filling. Their chicken's good too, country-fried in canola oil, so yummy. I say it's good for my health because it's in canola oil, not fat. I also like to stop in to Spice Cafe in Oneroa for a mochaccino.
There's the Osti Bar, that's just started up. They're putting on lots of entertainment, live bands and stuff like that, I can walk down there. Charlie Farley's bar in Onetangi is great too. It's named after a horse I think. There's a little old tractor outside, great for beers and stuff. Another place is Wild on Waiheke, they have great food, burgers that are too big to eat. They also have archery and clay pigeon shooting, with lasers. It's always mobbed. They sell my Wild Days Rum with ginger beer and their own home-made ginger beer on tap. They have the Wild Days and Wild Nights cocktail, with my rum, their ginger beer, plus mint and caramel. It's great.
I sometimes walk to the RSA, which is great if you want a staple meal, cheap beers and old men. I joined the RSA years ago when they started building it as I wanted to support the older people, it's perfect for them. We've got some great events here too, the garden festival, the Jassy Dean Trust, and the inorganic rubbish collection where you get things for free, I love that.
Every Saturday morning between nine and noon we have a market at the RSA. I have a stall that sells tourist knick-knacks and garden ornaments. I get a young girl up the road to draw my designs and I get them made up in China. I've been doing the market for 10 to 15 years.
The market has great food, French pastries, crepes, the sausage van that sells burgers, organic pork rolls, BLTS, Langos selling Hungarian fried bread, and people who grow hydroponic vegetables. That's my Saturday morning.
Friends of the Street is another great thing here, collecting the teens who are drunk at parties. They donate a gold coin, and we drive them home safely which means we don't get too much drunk driving. The roads are so bad on Waiheke, windy and dark, it's best not to have the kids walking on the roads. I go out once a month doing that. There are 12 volunteers in all, running Friday and Saturday nights.
It's the community that makes this place. It's so diverse, different groups of people in all different areas. It's just a cool place to live.

A few of Russell's favourite things
Poderi Crisci: 205 Awaawaroa Rd, Awaawaroa Bay, Waiheke Island. Ph (09) 372 2148. Delicious food, lovely people, heavenly atmosphere.
The Mangrove Takeaways: 30 Belgium St, Ostend, Waiheke. Ph (09) 372 8789. Best pies, awesome chicken, yum.
Ostend Market: War Memorial Hall & Reserve, Belgium St, Ostend, Waiheke Island. Every Saturday morning the people of Waiheke buy, sell and mingle.
Wild on Waiheke: 82 Onetangi Rd, Ostend, Auckland. Ph (09) 372 4225. Food, drink and a range of fun activities.