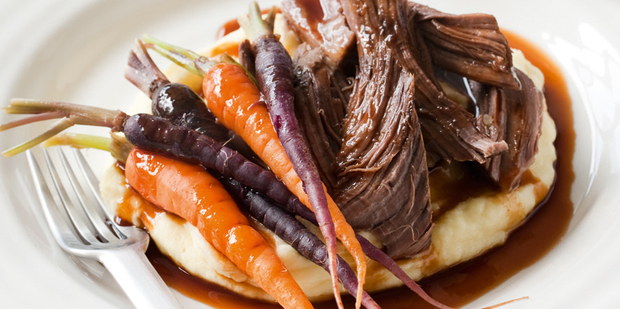 Serves 6-8
oil for cooking
1.5 kilogram topside beef
1 onion, chopped
2 cups water
2 tablespoons white wine vinegar
1 tablespoon Worcestershire sauce
2 teaspoons beef stock powder
bouquet garni of 1 bay leaf, 2 sprigs of thyme and a few parsley stalks or ½ teaspoon dried mixed herbs
soft butter and flour for thickening juices
1 Place a dash of oil in a large saucepan over a high heat and brown the piece of meat on all sides. Set aside on a plate.
2 Lower the heat, add the onion and cook until lightly golden, about 10 minutes.
3 Return the meat to the saucepan, add onion, water, vinegar, Worcestershire sauce, beef stock powder and bouquet garni and cover with the saucepan lid.Cook on a very low simmer for 5-6 hours until the meat is tender and falling apart. You can also cook this in the oven at 150°C, or in a slow cooker.
4 Remove the meat from the saucepan and keep warm. You should be able to pull the meat apart with 2 forks to serve.
5 Thicken the juices with a paste made from equal quantities of soft butter and flour. Whisk into the juices.
6 Serve with plenty of mashed potato, vegetables and the meat sauce.
Richie McCaw made his All Blacks debut in 2001, holds the records for most Test appearances and most appearances and wins as captain, and lead the team to victory at RWC 2011. He has played for Canterbury since 2000 and for the Crusaders since 2001, winning numerous Super Rugby titles.