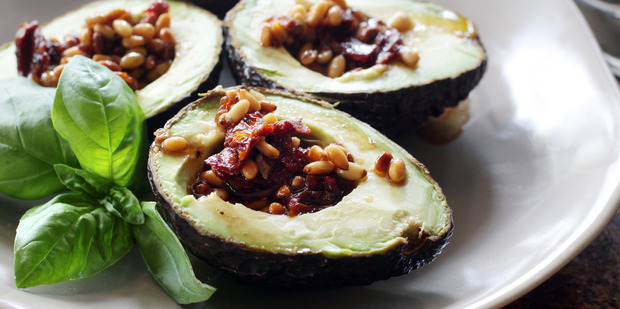 Remember when avocados were considered so flash they were served in high-end restaurants filled with prawns or chopped hard boiled egg? Avocado vinaigrette was "tres chic". This healthy, hearty version would make lunch with a salad or a good summer starter.
Serves 4
Dressing
2 tbsp olive oil
1/4 cup pine nuts
4 sundried tomatoes, chopped
2 tsp balsamic or wine vinegar
1 clove garlic, very finely chopped
1/4 tsp salt
freshly ground black pepper, to taste
2 ripe avocados
1 Warm a little of the olive oil in a frying pan, add the pine nuts and heat until golden brown. Add the rest of the oil and remaining dressing ingredients, then put aside until required.
2 Just before serving, halve two ripe avocados by cutting around them and twisting the halves gently. Remove the stones by chopping a sharp knife into the stone and twisting the knife. Spoon dressing into the avocado cavities and serve promptly.
Extracted with permission from The Ultimate Vegetarian Collection by Simon and Alison Holst, published by New Holland, RRP $55.