Valerie Adams, gold medal athlete.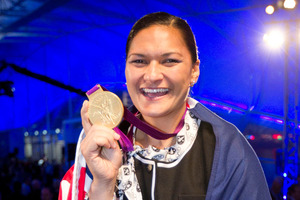 My happy place is my house in East Auckland. I don't get to see it much. I live in Switzerland for most of the year, and I'm only home for three or four months.
I like the space. In Switzerland I live in a one-bedroom bedsit. Here, the space I have and the privacy makes me feel free, relaxed and calm. There's no one looking, there's no one I need to talk to. It's just me and my house and my couch and my space and my lawns.
When I'm at home I'm a potterer. I go around and do bits and bobs and jobs. If the weather's nice I'll go outside and attack the garden. The lawns are pretty big, and I like to mow them.
It's normal life. I don't get to live a normal life. In Switzerland I live at a sports institute. So to do normal stuff is revitalising.
At the moment I'm training, while doing a book tour, while talking to people, but there's nothing quite like going back home, and into your own bed. It's absolutely like heaven.
I have a "Wall of Fam" in my house - a wall of family photos. It's in the hallway, and it's where all my loved ones are. My mother's photo takes a special place in the lounge. I like to sit there with her in sight, while watching TV and listening to music. Or just sit there and enjoy the garden in front of me. It's a very peaceful feeling.
I bought the house two years ago, when I was 26. It's in a U-shape. It opens out to a deck and the gardens are right there, so it's real indoor-outdoor living. I'm an outdoor person, big time, so it's works out perfectly.
I have my family there all the time. My nieces and nephews come over and I make crepes and muffins and cupcakes. I try to do the aunty things that I miss out on for the nine months that I'm away. It's really cool. It makes the house feel warm. My family tell me that when they look after the house while I'm not there it feels cold, and when I'm there it feels warm.
One day I'll get to spend more time there, but right now this is the life I'm living. It makes my house very precious to me. It's my security. It's something that I own that I've worked very, very hard for, so it's very important to me.
* Valerie Adams has just released her memoir, Valerie: the autobiography, with Phil Gifford. Hachette New Zealand, RRP$44.99.