Sixteen-year-old Dita Donaldson tells Elisabeth Easther why Glenfield is a great place to be a teenager.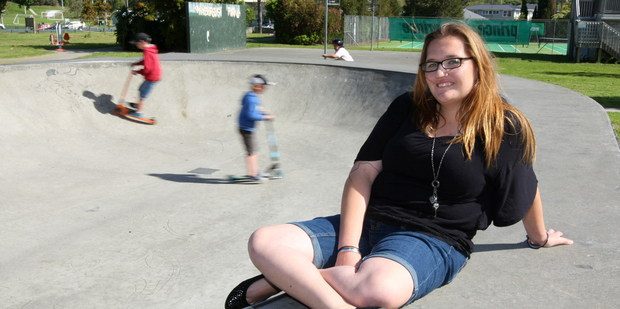 I've lived on the Shore pretty much my whole life. I've lived in Glenfield, then Torbay, then back to Glenfield, we lived in Milford for a couple of years too, but I love Glenfield the best. Everything is so accessible.
Where I live, it's about a 20-minute walk to the Glenfield Mall, or half an hour to the Marlborough Skate Park, both things teenagers can get to easily without interrupting their parents. And with the Mall just up the road, there are buses from there that can take us everywhere else.
My friends and I go to Marlborough Skate Park at least a couple of times a week. We'll play at the park, or the playground, take lunch and have a picnic. It's one of the better skate parks on the Shore, all the boys will be skating around and the flying fox is always a crowd favourite. The park also has shops right across from it, there's a dairy, a bakery, Domino's Pizza, a little gas station. Marlborough Park is a real central point of this area. There'll be families, and people with scooters and skateboards and bikes.
And there's a really nice walk at Witheford Reserve, it's a bush walk at the bottom of Kaipatiki Rd, connecting the Bayview area to Glenfield. The little walk takes no more than half an hour from one end to the other and back again.
The Glenfield Mall is another place that has everything you need. There's a food court, and there are so many coffee shops it's ridiculous. I love clothes shopping at the mall. I love Glassons, it's amazing, and JJ's as well. Those two stores are my favourites to go shopping in, and the mall has, in my opinion, the best food court on the Shore. I don't eat a lot of takeout but if I need takeaways, there's an Asian salad place that's very good, there's also Maccas, and KFC, kebabs and Indian. There are so many different varieties of food.
Another good thing about Glenfield is there's an express bus to the city, which you don't find so much, and it's just three stages, and that's how I get to the Maritime Museum every day.
One of the things I really look forward to each year is the Christmas Parade in November, it's a highlight, I love watching Santa go past. And The Soap Box Derby, seeing the kids and teenagers racing down this giant hill in carts. It's terrifying to watch but looks like so much fun and everyone gets out for that event, then heads to Glenfield MacDonald's for an icecream.
During summer the local board does a summer activity at the skate park for kids. They bring games to play and it's just such a community thing. Two years ago, I did a seminar on leadership and we were put in groups relating to our area. I was put with people from the local board of Glenfield and we had to come up with an idea to make our area better, and we came up with Paint the Parks. We started off thinking about Marlborough Park, then continued on to Normanton, wanting to make things a bit more fun and entertaining, put in more hopscotches, and snakes and ladders and paint some of the walls to help prevent graffiti. There's a group of us who are pushing towards that. We're just waiting to get funding finalised, and we're hoping to complete that at Marlborough Skate Park within the next couple of months and then continue on.
I leave school at the end of next year and, when I do leave Glenfield it's my family and the community I'll miss most. I really don't want to leave the Shore but I'll probably have to, to do the things I want to do.
A few of Dita's favourite things
* Marlborough Skate Park, 5 Chartwell Avenue, Glenfield.
* The West Auckland Annual Soapbox Derby. A fantastic event for local children. For details email: info@soapboxderby.co.nz
* Glenfield Santa Parade & Christmas Gala. This year it's on November 18. Details online.
* Glenfield Mall. With everything a shopper's hearts could desire. Cnr Glenfield Rd & Downing St. Glenfield. 09 978 9700.
HELP YOURSELF BY HELPING OTHERS
International Volunteer Day
Take the opportunity on International Volunteer Day, November 5, to find out the pleasure of giving your time to worthy causes. Here are some organisations that match people with opportunities to volunteer. There are many ways to chip in, and we'll all be richer for it if you do.
Volunteer Now
This Website helps encourage "Young Seniors" to get involved in their local communities. Part of Volunteering NZ.
Volunteering Auckland
(09) 377 7887
Volunteering Auckland supports not-for-profit, non-governmental organisations and community groups with recruitment, retention and recognition of volunteers, training and resources. They also refer individuals and teams of people to voluntary positions and projects.
Volunteering NZ
0800 865 268
Since late 2009, Volunteering New Zealand (VNZ) has been dedicated to the support and development of managers of volunteers. They also help willing helpers find the right place to donate their time and expertise.
Dita Donaldson (16) is a student at Westlake Girls High. She also volunteers as a crew member on the Ted Ashby, the Maritime Museum's ketch-rigged deck scow. She also works as an experience host at the museum.