Danielle Wright goes on the hunt for the best of the obscure, from classic cars to whaling memorabilia and everything in between.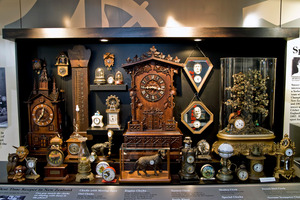 Are you fascinated by the Finn Brothers, crazy about coalmines or delighted by diggers? Then there's a museum for you.
Small-town museums are often a labour of love, and well worth a visit on your way through town. You can learn about early settlers and get a feel for the obsessions that occupied the people in the town. Here are some of the more unusual museums to plan a pit-stop to over the summer holidays:
Claphams National Clock Museum
Town Basin, Dent St, Whangarei, open 9am-5pm daily. $8 adults, $6 seniors, $4 children or $20 family. Tel: 09 438 3993, www.claphamsclocks.com.
Archibald Clapham was an engineer and clock collector from Yorkshire, who made Whangarei his family home. Tall, elaborate grandfather clocks, an 1830s German monastery clock, with a cuckoo at the top and a little monk coming out on the hour to ring a bell, a clock that "travels backwards" in anti-clockwise motion, novelty clocks including ones that crow and bark, and a clock with written memos appearing in certain time slots are a few of the treasures on display.
The Waikato Coalfields Museum
26 Harlock Place, Huntly, open Wed-Sun 10am-4pm, $5 adults, $2 school children. Tel: 07 828 8128, www.coal.net.nz.
For history literally at the coalface, the Waikato Coalfields Museum has mining machinery, equipment, photographs, film footage, a coal mining archive, domestic items, costumes and textiles, a research library, newspaper cuttings and a family history database, housed within the Taupiri coal mine manager's original 1890 historic homestead.
"For us, it's all about the stories. When someone brings us an item, we ask who used it, where were they when they used it, etc," says registrar Jane Ferrier. "A museum without stories is just a storeroom."
The exhibition on local girls the Topp Twins, Six Strings and Politics, for instance, also recounts New Zealand's social history around the women's movement and the nuclear free campaigns.
Castle Pamela
10 Bridge St, Tirau, open during school holidays and statutory holidays from 9.30am-3.30pm. Entry to doll collection is $10 adults, $5 children. Tel: 07 883 1112, www.thecastle.co.nz.
"People were throwing dolls and toys out as rubbish. I learnt it wasn't just the toy, but our history they were throwing out," says owner Pam Baker, who built a castle to house her treasures, including her parents' Royal Albert collection and a miniature train set.
"We have hundreds of Royal Albert designs," says Pam. "People love the roses, but I like the ones from the twenties and thirties best, you can see what was in vogue at the time; it's quite interesting to see how designs changed through the ages.
Te Awamutu Museum
135 Roche Street, Te Awamutu, Open 10-4 during the week, Sat 10-1, Sunday 1-4, free entry, telephone 07 872 0085, www.tamuseum.org.nz.
History never repeats, unless you're visiting the Finn Brothers exhibition at the Te Awamutu Museum, where you'll learn about their early life in the region, as well as their musical legacy.
The Everyone is Here exhibit includes clothing, records, awards and interesting facts: for example, did you know the art band Split Enz opened for heavy metallers Black Sabbath?
Classics Museum
11 Railside Place, Dinsdale, Hamilton. Jukebox Diner open 7am-5pm, museum open 9am-5pm, seven days. $20 adults, $8 children, www.classicsmuseum.co.nz. Grand opening 2 December, for more information telephone: 07 957 2230.
Forget about the V8s and step back in time at Hamilton's Classics Museum, channelling Grease and Happy Days with its onsite diner and huge collection of retro petrol pumps, signs and restored cars.
"We wanted to create a meeting place for car groups in Hamilton, which is renowned for its love of cars," says Emily L-Huillier, collector Tom Andrews' daughter.
A Maserati is the museum's most expensive item, and there's also an Auburn boat tail speedster in gleaming white. Cars will be rotated so every time you visit there will be something new to covet.
The NZ Caterpillar Experience
171 Fairy Springs Rd, Rotorua. Open 8.30am-5.30pm, seven days. Adults $20, Children $8, telephone 07 347 3206, www.caterpillarexperience.co.nz.
Local forestry contractor Lindsay Willis noticed a lot of machinery being sold as scrap.
Concerned our machinery history was being lost, he started saving and restoring Caterpillar bulldozers, now housed as a private collection. It's "not just a load of old bulldozers" but also an insight into New Zealand's forestry history.
"It was a hobby that got out of control," says Karen Ryan.
"Most Kiwis have a connection with farms and it's a case of man and machinery really shaping our landscape. We're a heritage attraction and some of our machines are very rare."
Butler Point Whaling Museum
Butler Point, Hihi, 0800 MUSEUM, open by appointment only, www.butlerpoint.co.nz.
The Butler Point Whaling Museum gives you a real sense of what life was like back when Mangonui was a hub for whaling ships.
The 1840s house and gardens set on a beautiful Northland bay and home to enormous pohutukawas is an added bonus.
The Kauri Museum
5 Church Rd, RD1, Matakohe 0593, telephone 09 431 7417. Opn daily 9am-5pm, adults $25, children $8, family $55, www.kauri-museum.com.
Matakohe's Kauri Museum has the largest collection of Kauri gum and displays from the early settlers of the region.
It's a treasure trove of both gum digger paraphernalia and early settler domestic history with lifelike mannequins modelled after real early settlers.
Noel Taylor Trotting Hall of Fame
Noel Taylor Building, Greenlane Rd, Greenlane, Auckland, telephone 09 630 5660. Open from 4pm on Friday race nights, free entry, www.alexandrapark.co.nz/racing/trotting-hall-of-fame
The Trotting Hall of Fame has a collection of memorabilia formed over the past 30 years documenting the history of harness racing in New Zealand.
The collection includes photographs, cups, trophies, paintings, presentation sashes, rugs and whips, as well as an extensive library of stud books, racing annuals and harness racing magazines. There's also a special section devoted to pacer Cardigan Bay, who is buried behind the museum.
Early Settler Museums
Howick's Polish Heritage Trust Museum (09 533 3530, open Tues-Fri 9am-5pm and Sunday midday-5pm, www.polishheritage.co.nz) has costumes, crystals, wooden plates and embroidery, as well as a documentary about Polish children who came to New Zealand in 1944. A Sunday programme includes family days and workshops in a traditional paper craft called wycinanki.
The Huia Settlers Museum 1251 Huia Rd, (open Sat and Sun 1.30pm-4.30pm, 09 811 8971) has artefacts from the HMS Orpheus disaster, as well as local history books with information about Maori occupation and timber milling in the area.
For Scottish heritage, Waipu Museum 36 The Centre, Waipu (open 10am-4pm, seven days, www.waipumuseum.com) reveals the story of the Highland Clearances and the dramatic story of Scottish settlers in Waipu, via Nova Scotia.
Agricultural heritage is on display at The Kumara Box in Dargaville (503 Poutu Rd, 09 439 7018, www.kumarabox.co.nz). The story of the area's early kumara kings and queens is told by the irrepressible "Ernie", followed by an oil barrel train ride and kumara scones. Haunting black and white images of the early kumara pickers and footage of high-spirited workers bumping over the ground picking kumaras brings history to life.
Trail Guides
Pick up a heritage walking trail guide - it's a great way to get to know the town you're visiting. There are also museum trail guides such as the Hamilton/Waikato brochure with information on agricultural, mining, timber, Maori culture and settler museums: www.hamiltonwaikato.com.