Tony Hayman tells Elisabeth Easther why he and his partner Jan love living in the Millwater area of Silverdale.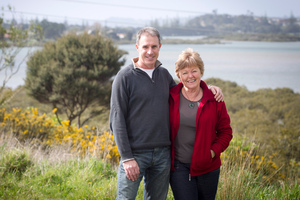 I've been living in Silverdale for only six months, and before that we were in Stanmore Bay. We were renting there, and had spent two to three years looking for somewhere to buy. We were quite fussy purchasers, and couldn't find anything that suited us; the real agents asked if we'd ever thought of building. So we drove into Silverdale, the Millwater subdivision, looked for a section with all-day sun, and we found it. It took 16 weeks to build and we are very pleased with the results.
Millwater is one the fastest growing areas in New Zealand. It's just massive, eventually there'll be 10,000 people, on 3000 sections. They've already created some large parks. We found a section that's very close to Butler Stoney Park, its a great big piece of grass now but the council will turn it into a nice reserve. There's another large park where the council is constructing some playing fields and that'll be the active area, right on Orewa Estuary. There are a number of children's playgrounds already made and landscaping in the street, so the whole package looks very attractive.
Silverdale itself is undergoing a massive commercial redevelopment too. There are 230 shops coming on-stream in the next few months. Silverdale has a cute little town centre at the minute, which is quite small, most people pass it by, but soon it'll be a major destination.
There's a neat pub in Silverdale called the Wade Hotel, an old pub that's recently undergone some renovations. It doesn't look like much from outside, but the inside is gorgeous. It's very popular, they have great food and outdoor seating. There are a couple of cafes, although we're gluten-intolerant so we're fussy about cafes, and haven't yet found one that caters for us. So we sometimes go to Orewa to Alley Cats, only a few minutes drive away. They do a delicious vege stack. Of the 200 shops about to arrive, we've heard there's going to be a Burger Fuel, which is a favourite takeaway for us as they do gluten free buns. There'll be a branch of Mozaik Cafe; they have one in Orewa which we like to go to, so having one in Silverdale will be good. They do brilliant mushrooms on toast, I also like their prawn and chicken and salad.
Cycle training out here is great. I've got a road bike and a mountain bike and at the moment with the rubbish weather I tend to do a bit more mountain biking. On the road bike I have easy access to good routes. I need to be doing 100km training rides to be fit for the Taupo ride which is 160km long. I'm a recreational cyclist and I struggle sometimes to do all the training I'm supposed to do.
One route I like, I set off towards Wainui, then Waitoki, then head west to Kaukapakapa and sometimes I'll go north up SH16. It's quite a hilly ride that one, which is great training, but most of the time I'll head south to Helensville, out to South Head. I have a point that's 50km from home, so I get there, turn around and head back. I do my rides early in the morning when the traffic is still quite light. The road verges are quite wide in most places too, so it's pretty safe.
We've also got an amazing walkway that goes right round Te Ara Tahuna. It's 7.5km long, a well formed concrete boardwalk right around the basin. On nice fine days it's chocka with dog walkers, families with prams, runners and cyclists, whole families with very young kids on the back of Dad's bike. It's an amazing walkway, although it's a bit of a learning curve for some people to understand the etiquette on busy days. There are some other walking tracks round Millwater, a short one under some old gum trees, and it's just a 10-minute bike ride from here to Orewa Beach.
Up until recently the land was farmed, so there's a lot of history and the developers have done a great job of acquiring a significant piece of land.
I don't ever plan on leaving, at least not for a long time. And I look forward to all the development, jumping on the bike and going to the shops, visiting nice cafes, it's just a great place to live.
Enthusiastic cyclist Tony is entered in the Lake Taupo Cycle Challenge Bike Barn Solo, the 160km single lap around Lake Taupo, to be raced on 24 November. cyclechallenge.com.

Tony's top tips
Wade Hotel: 2 Tavern Rd, Silverdale. Ph (09) 426 4311.
Great pub food and welcoming atmosphere.
Mozaik Cafe: 350 Hibiscus Coast Highway, Orewa. Ph (09) 427 5633. Five Mozaiks in Auckland, and soon there'll be one in Silverdale.
Millwater: millwater.co.nz. Marvellous new subdivision between Silverdale and Orewa.