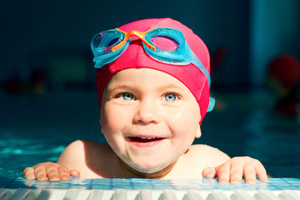 So over half of our monitored rivers are too polluted for swimming, according to No swimming: 52% impure NZ rivers. That's unwelcome news especially as summer is rapidly approaching. Oh well, at least we can still head down to the local pool to cool off.
Actually, you may need to rethink that too. An early scene in Diary of a Wimpy Kid 3: Dog Days reminded me why I avoid public swimming pools. The movie showed a crowded pool and from the faraway expressions on many of the swimmers' faces you just knew they were emptying their bladders into the water.
Urinating in pools is just one unsavoury part of the communal bathing experience. Back when I used to venture into such facilities I also recall being grossed out by clumps of hair and sticking plasters drifting past in their unhygienic glory. I've also heard of toilet paper being found in a pool.
Luckily though, I've never witnessed a Code Brown - otherwise known as a floater. These are industry terms for poop in the pool, an event far more common that you would hope.
In the Scientific American blog How do germs get into the swimming pool? You might not want to know we learn a new term for such an incident: accidental faecal release (AFR for short) and discover that a study conducted by a US microbiologist found "the average bather releases 50 milliliters of urine and a liter of sweat per hour".
The New Zealand Herald article linked above says, "Health effects from swallowing water tainted with faecal micro-organisms or other bacteria can... include diarrhoea or vomiting, and infections of the eye, ear, nose and throat".
Swimming pools are public toilet bowls for many: survey opens with "If you're taking a refreshing dip in a pool with four other people, odds are one of you is urinating." This must be referring to the statistic quoted in Survey: Public swimming pools full of germs... and pee which revealed that "one in five Americans admit to using a public pool as a urinal." In New Zealand that figure is closer to one in four - actually I invented that factoid but I did always wonder what spawned the sign: "We don't swim in your toilet so don't you pee in our pool." Now I know.
I have a theory that there may be fewer bugs in traditional unheated outdoor swimming pools that the sun shines down on all day. But increasingly today public pools and some school pools are indoors and heated to the optimum temperature for bugs to thrive in - just like one gigantic petri dish.
In my unscientific opinion heated indoor pools are festering cesspits of infection - all of which must be great news for those people who think that, in the interests of fostering robust immune systems, germs should be embraced rather than shunned. To them I say: enjoy your swim but try to avoid the floaters.
What's your view about bugs in swimming pools? Are you opposed to swimming amongst the germs or are you made of stauncher stuff? What's the most revolting thing you've seen in a public pool?