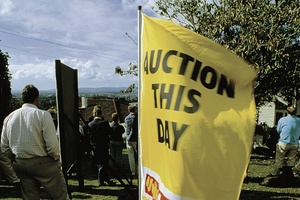 Auctions are becoming the popular way for Aucklanders to buy and sell houses.
Since January the gavel has sealed 5,287 transactions or better than one in four homes sold in the region so far this year.
Looking further into the numbers, it is not hard to see why. Auction sales delivered vendors a 34 per cent premium over the council rates valuation (cv) in the three months to September 2012 and provided a certain outcome in a shorter time frame, reducing the time to sell by around a week compared to other selling methods. In some suburbs the auction premiums have been as high as 50 per cent over cv while other selling methods are achieving an average of a five per cent gain.
It is not only the higher priced suburbs that have been attracting keen bidders. In Sandringham, Avondale, Ellerslie, Mt Roskill, among others, vendors have been achieving prices one to two hundred thousand dollars ahead of valuation.
As Shelley Bridgeman noted in her article last week not all properties, and not all markets, are best suited to auction sales.
Currently in Auckland there is a scarcity of listings which is a perfect opportunity for vendors to choose auctions over other selling methods. This year, the New Zealand Herald has published articles noting outstanding results from auctions in Mt Albert, Greenlane and Mt Eden. The biggest surprise was a Remuera vendor who had been willing to accept an offer of $880,000 and, three days later, had people standing on the pavement making 250 bids which raised the selling price to $1.3 million.
Real estate agents doing their job will make sure a property is presented to best advantage and is viewed by sufficient qualified potential buyers to ensure the auction is a success. Advertising brings the property to the attention of many potential buyers. Also important is the knowledge and networks of real estate agents to identify potential buyers who might not otherwise take an interest.
Commercial properties are sold by auction year in year out. Those cost conscious vendors, who frequently have a range of property investments, know the value advertising and marketing campaigns deliver.
As for vendor bidding at auctions that is strictly illegal - unless a right to bid by or on behalf of the vendor is expressly reserved and the bids are clearly identified as being vendor bids. Any suspected instances should be reported to the Real Estate Agents Authority, a Government agency that regulates the activities of real estate salespeople. The Authority can be contacted here.
* Helen O'Sullivan is Chief Executive of the Real Estate Institute of New Zealand Inc