As India's festival of lights approaches, Danielle Wright explores the rich culture of India in Auckland.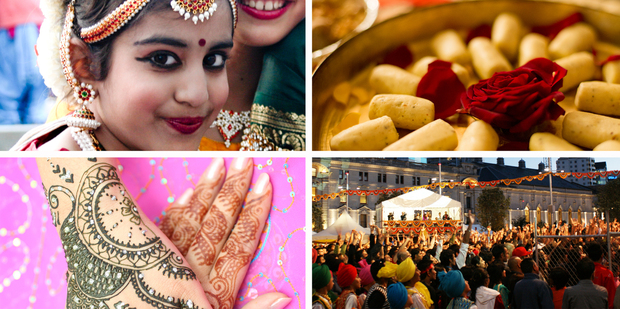 Diwali, also known as Deepavali (literally "a row of lamps") is one of the most important Indian festivals, celebrated across the whole nation.
Today and tomorrow, Auckland City's Diwali festival will give us an official reason to celebrate this vibrant culture, with more than 40,000 attending each year. But all around Auckland you can enjoy Indian culture year-round. Here's a round-up:
Feel-good foods
Deliciously, Indian celebrations start with the sweets. Head to Indian Sweets and Snacks at 852 Dominion Rd for 100 per cent vegetarian jalebi (very sweet and crisp, with the look of a fat orange noodle), barfi in vibrant colours such as bright yellow or pillar-box red (subtly sweet and made with fresh, powdered and condensed milk) and other speciality Indian snacks. Get in quick, they tell me Diwali is like Christmas for them and very busy.
Head to Avondale for freshly ground spices at Spice World. Come on the right day of the year, sometime in January, and you might even stumble upon their one-minute trolley dash. The last winner took more than $400 off the shelves in 60 hectic seconds.
Before feeding me peri peri cashews and showing me a huge variety of Indian ingredients, including six types of ghee, biscuits, chutneys and pickles, manager Mehmood Khan says: "Our freshly ground spices smell amazing, nothing like the imported spices at other stores." And they do.
Buy Indian, Pakistani and Sri Lankan groceries from a man with the neatest beard I've ever seen at Raavi Foods and Spices, 421 Richardson Rd (ph 09 627 7226) or buy online at the Spice Trader. Serandib (Shop 3, 875 Dominion Rd) specialises in Sri Lankan food supplies.
Main Course in Beaumont St has a Namaste India cooking class on November 7 if you need some practice ($99) or eat your way around the Indian world in Sandringham with Fijian, Sri Lankan, vegetarian, North and South Indian cuisine.
Satya is renowned for its Southern Indian cuisine or walk across Sandringham Rd to Shubh Foods, with pre-prepared vegetarian curries stacked in neat piles. Already busy at 3pm, a customer is insisting on complimenting the chef in person - I haven't seen that at many takeaways. For $7, the lunch menu includes any two curries, rice, 2 roti, yoghurt and chutney.
7 Siri - Taste of Sri Lanka is a little walk up Sandringham Rd and run by an ex-economics teacher, Nandasiri Alwis. House speciality is lump rice - a delicious selection of curries and rice wrapped in a banana leaf. Sip Indian tea, perfect for digestion, and take in the Sri Lankan beach hut interior.
Theme your takeaway with a DVD from Indian Movie World across the road or visit the Spice Supermarket with its display of delicious Indian sweets at the entrance and Indian music from a stereo above bulging bags of rice and Indian beauty treatments and oils.
On Dominion Rd, stop in at the Sri Chinmoy Blue Bird Cafe for vegetarian food from ladies with saris over their T-shirts and serene smiles. Pick up a Mukti Cookti Bookti cookbook, or incense, with your food.
There's also a Hari Krishna restaurant, Food for Life, at 286 Karangahape Rd.
Whichever Indian fare you choose, you're guaranteed a beautiful smile with your order, and a joke or two shared, as well as a curry.
Indian theatre, music and dancing
After all that delicious food, you'll need to dance it off. Try a Bollywood dance class, such as Ella Kumar's lessons at Mt Roskill Grammar School (ph (09) 621 0055) or try your moves at the R-Lounge, above Raviz at 104 Customs St West every Saturday night. Deejay Areeb, an IT engineer by day, DJs the events and donates the money to charity.
R Lounge clientele is quite glamorous but manager Rohit Ghandi says, "It's not just for Indians and the best thing is that everyone can do the dance, you don't need to know the steps. Just listen to the music and go with it."
For Indian theatre, Prayas is a not-for-profit theatre group performing Indian plays in English.
Get a taste for their street theatre at the Aotea Square celebrations from 1.30pm - they will be replicating a bridal procession, which director Amit Ohdedar says is "very colourful, with a bit of a twist".
After the festival, you can see Indian music and dance, such as Bhangra from the Punjab region, at community events listed on Asia:NZ's website or for visiting international artists, see the Indian Weekender.
Bollywood bling
Dress up in your Indian best with a visit to Roop Darshan, cnr White Swan and Richardson Rds. It has a beautiful collection of vibrant fabrics and outfits from the affordable to bespoke and premium brands. There's also jewellery, shoes and opulent shirts with diamond brooches on crinkle-top ties.
"We have the works," says Mahesh Kumar, Roop Darshan's manager.
In Mount Roskill's Stoddard Rd, there's also Makanjees Fashion or Sona Sansaar, because "life is too short for ordinary jewellery" - or, it seems, to not double park on the busy streets.
Try Khoobsurat (2 White Swan Rd, Mt Roskill) for traditional party wear and complete the look with a Henna Mehndi tattoo.
Usha Raman from hennatattoos.co.nz will be at the Diwali Festival and says they are increasingly popular with many non-Indian cultures, she even once painted a rose on Helen Clark's hand. The tattoos last about two weeks.
Paying your respects
To find some lightness of spirit, head to one of Auckland's impressive-looking Indian temples, such as the Shri Swaminarayan Manoir and Cultural Complex at Lansford Cres in Avondale or the Bharatiya Mandir temple at 252-254 Balmoral Rd.
Incense and religious shrines can also be found at many of the spice shops and Indian supermarkets and don't forget diyas (tiny pots filled with oil) or fairy lights to symbolise the victory of light over dark, good over evil.
Celebrations
* Today and tomorrow, at Aotea Square and along parts of Queen St near the Civic Centre, a Diwali Festival will brighten up our central city, even though it's not officially Diwali until November 13. The food and craft market is open from 12pm-9pm and event listings are at aucklandnz.com/diwali/festival-programme. Choose from street theatre, Bollywood dance competitions, rangoli demonstrations (this is the colourful, geometric patterns on the floor), sitar and tabla workshops and fireworks to end the festival. A Diwali Walking Trail will depart Britomart every hour from 12.30pm-5.30pm on both days.
* The festival is vegetarian and non-alcoholic, making it family-friendly. There's a Diwali Food Challenge running until November 13 for restaurants to include a Diwali "Taste on a Plate" menu item. Participating restaurants include Hectors Restaurant at The Heritage Auckland, with a dish inspired from aloo ki tikka, which features crisp fried lentil and potatoes.
* While you're at the festival, take a look at the homes entered in the Barfoot & Thompson Diwali competition. Children will especially enjoy a drive past some of the more elaborately lit homes.
For more pictures capturing the Diwali Festival - featured in the Auckland Festival of Photography - see photographyfestival.org.nz/photo-blog.