The pick of the season's new wine crops.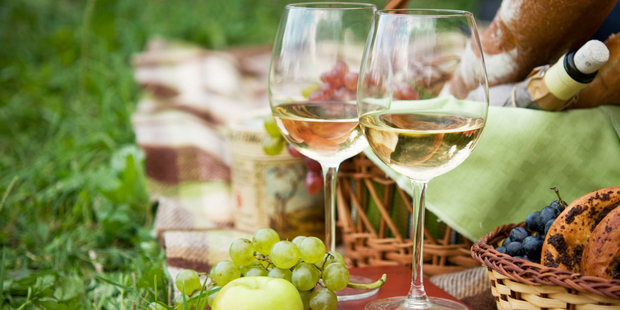 Strawberries, cherries and an angel's kiss in spring: my summer wine is really made from all these things," sang Nancy Sinatra to Lee Hazelwood in their 1960's duet, Summer Wine, conjuring up the light, bright flavours made for the warmer months. Less potent than the wine alluded to in the song - as too much alcohol and al fresco imbibing can prove a painful combination, as Hazelwood's character in the song was to discover - I've selected some of the most exciting new releases to hit our shelves this summer and styles suited to the season and its fare.
Brancott Estate "Flight" Marlborough Sauvignon Blanc 2012 $26.99
And they don't get much lighter than this: the new sauvignon blanc from Brancott Estate's new naturally low alcohol "Flight" range clocks in at a diminutive 9 per cent. With its notes of ripe passionfruit, oregano and a zesty lick of lime, it illustrates that low alcohol does not always have to mean less flavour. In fact this impressive early picked expression recently won a gold medal at the New Zealand International Wine Show where it was up against full strength sauvignons.
(From leading liquor retailers.)
Stratum Waipara Valley Riesling 2010 $10.99
Riesling is a variety which is effortlessly able to produce wines with lower alcohol levels and with its inherently crisp acidity is a hit in the summer months (or all year round for a riesling fan like me). Though it possesses a modest 12.5 per cent alcohol, it has a wonderful concentration to its palate of succulent white peach laced with jasmine and underpinned by citrus and mineral that propels this medium dry wine to a refreshing finish. Made by Sherwood Estate, this has to be one of the most incredible value wines you can quaff this season. (From Kohi Corner Bottle Shop, Thirsty Liquor: Pukekohe, Mairangi Bay Fine Wine, First Glass, Hamilton Wine Company, Cambridge Fine Wine.)
Amisfield Saignee Central Otago Rosé 2012 $30
Another style that comes into its own over summer is rosé. This vivid pink example is made by the saignee method: this is when juice is run off from a red wine - in this case a pinot noir - to create a wine that's been just lightly tinged by its brief contact with the grape's skins. This saignee is a robust but fresh wine, which tastes like summer pudding in a glass. (From Caro's, Glengarry, Liquor King Ponsonby.)
Cloudy Bay Marlborough Sauvignon Blanc 2012 $34.99
It's that exciting time of the year when we're starting to see the first wines from the new vintage come on to the market. From initial tastings of the country's most important variety, it would appear that this somewhat testing year - which had Marlborough grape winemakers on tenterhooks until the Indian summer saved the day - is going to deliver some stellar sauvignon blancs. This is the one of the best of the new crop that's passed across my palate to date. Redolent of elderflower, its nose leads to an intense palate of passionfruit and basil underpinned by an elegant minerality and silky lime acidity. (From fine wine retailers and New World supermarkets.)
Discovery Point Central Otago Pinot Noir 2010 $24.99-$29.99
Reds with the greatest appeal in the warmer months tend to be those of a lighter, fresher persuasion. Our local pinot noirs often perfectly fit this bill, such as this well-priced example made by local Master of Wine Stephen Bennett, in which bright juicy cherry and berry fruit is counterpoised with complex hints of forest floor and truffle. (From Village Winery, Primo Vino, Herne Bay Cellars.)
Kim Crawford First Pick Sparkling Sauvignon Blanc $17.99
If summer finds you in a frenzy to crack open some fizz, Kim Crawford has made it easier by being the first New Zealand winery to bottle its newly released First Pick Sparkling Sauvignon with a screwcap specially developed to withstand the pressure of a sparkling wine. Opened bottles will now keep their fizz for some days after opening, while picnickers can lay these down in a chilly bin with no fear of spillage. Twist off the innovative closure and you'll find beneath it a citrusy fresh and easy drinking bubbly with notes of herb and melon. (From all good supermarkets and liquor outlets nationwide.)
Aotea Nelson Gewurztraminer 2012 $23
Aromatic whites can also make for great summer sipping and pair well with fresh and punchy Asian flavours and salads. Lettuce wrapped Thai pork larb would be divine when drinking this highly perfumed gewurz made by Seifried, in which lifted notes of rose petals, musky spice and lemon zest combine in an oily textured but fresh and pretty expression. (From seifried.co.nz.)
Lunta by Mendel Wines Mendoza Malbec, Argentina 2010 $27.99
As we fire up the barbecues, a gutsy red with plenty of soft ripe fruit to pair with flame-grilled flavours is in order. This malbec sourced from 82-year-old vines should hit the spot with its charry-edged palate of concentrated dark berry and black cherry fruit with nuances of prune, dark chocolate and fragrant anise spice. (From Caro's.)
Dancing Water Scheurebe, Tier Garden Vineyard, Waipara 2010 $40
If you're looking to add something rare and novel to your drinking repertoire this summer, then check out this intriguing organic aromatic white from Waipara. It's wonderfully intense and on the dry side with notes of peach, honey and zesty pink grapefruit layered over an interesting savoury, peppery, Mediterranean herb-filled undercurrent. You'd be forgiven if you've never heard of scheurebe before as, though it's relatively widespread across Germany and Austria, it's a rare sight indeed on our shores. In fact, Dancing Water's Claire Bisso thinks she may well have the only scheurebe currently in New Zealand. (From Scenic Cellars, Caro's.)
Neudorf Moutere Nelson Pinot Gris 2011 $30-$32
The latest release of one of the country's now-classic pinot gris from Neudorf is made in a richer more textural Alsace style. Its notes of acacia honey, quince, fig and peppery spice are supported by a fabulous minerally freshness. Superb with seafood and shellfish in particular, such as scallops or lobster, plus poultry dishes and those with rich or spicy sauces. (From Caro's.)
Q Waitaki Pinot Noir 2011 $49
A relatively new wine label from the recently established Waitaki Valley wine region in North Otago, where the ultra cool climes are making for some of the country's freshest and most enthralling wines. The Q pinot noir is a great discovery with its silky textured plummy fruit, notes of aromatic peppery spice, herb and hint of game. Enjoy with lighter meats and game. (From Caro's, Accent on Wine, The Wine Vault.)